Do you have a cat that loves treats?
If so, you need to get them one of these amazing cat toy dispensers! Not only will your cat have a blast playing with the toy, but they will also be getting a delicious treat every time they do.
We have compiled a list of the 7 best toy dispensers for treats, so you can be sure to find the perfect one for your feline friend. Keep reading for more information on each of these products!
We hope you find everything you need and more from the picks we've shared! Each product was independently selected by our editors. Also, PawsPicks may collect a share of sales or other compensation from the links on this page if you decide to purchase something (that's how we stay in business).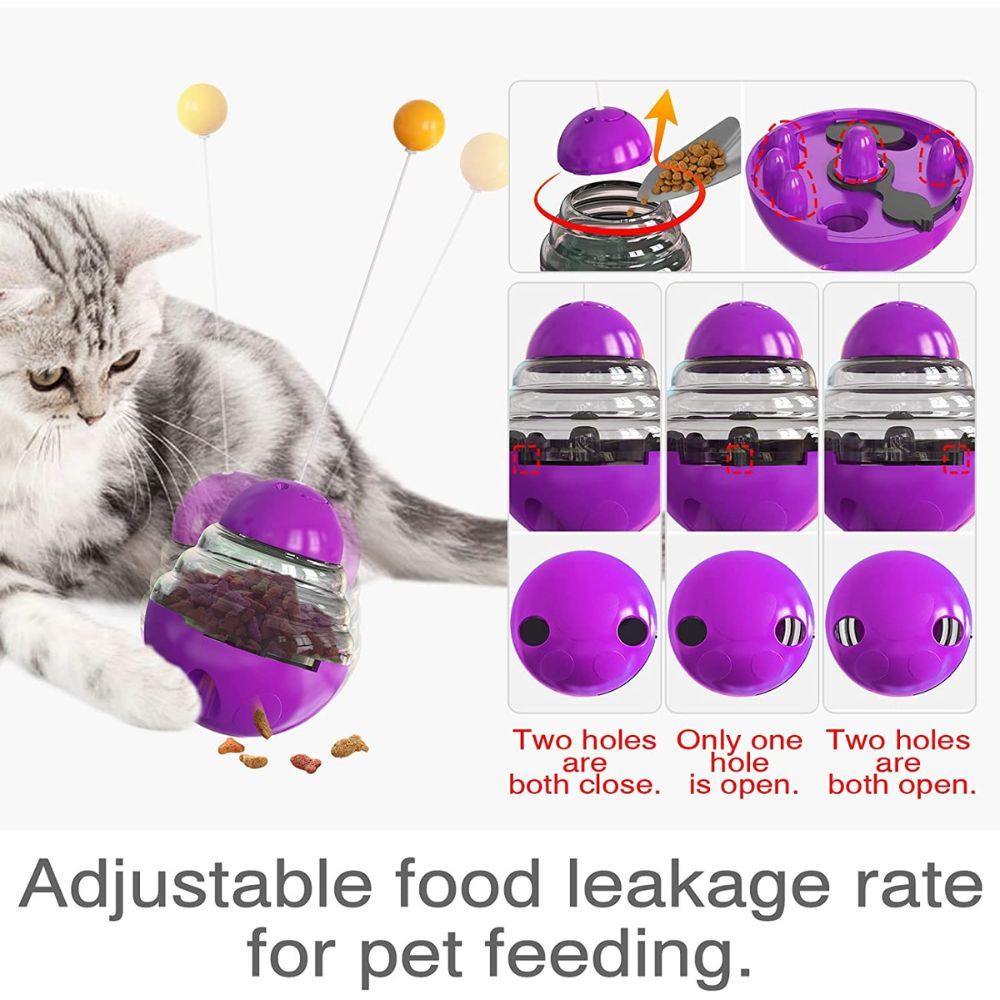 Are you ready for some feline fun? Introducing the TACKDG Cat Treat Dispenser – your kitty's new best friend! This wobble sway tumbler is the perfect opportunity to keep your furry friend entertained and engaged. With an innovative design, this one-of-a-kind treat dispenser tumbles to all angles without tipping over.
Check Price on Amazon
It comes complete with a long teaser stick and cat ball on top, made of high toughness materials that won't easily break or fall apart.
When the tumbler begins shaking, the ball will follow suit while arousing your kitty's hunting instinct to touch and catch it - providing hours of excitement and exercise.
So get ready to add some dynamic fun into your feline's life with the TACKDG Cat Treat Dispenser!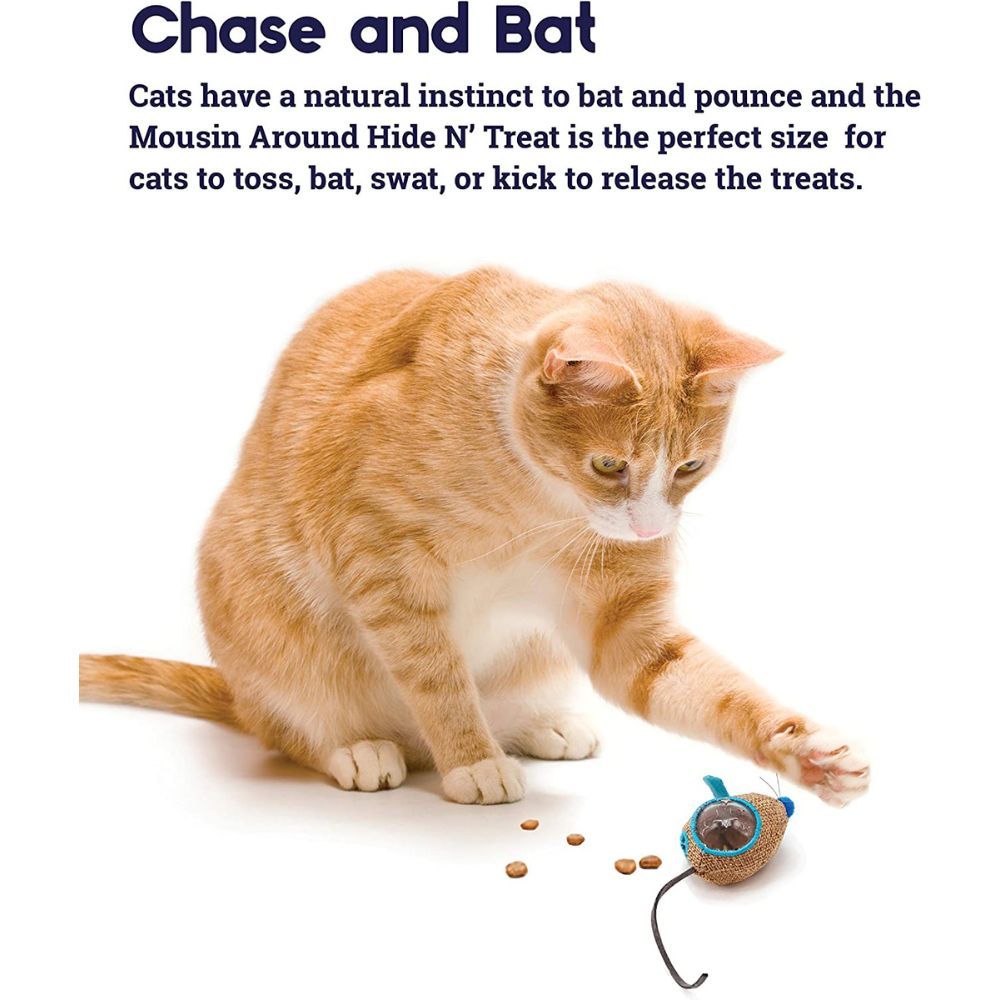 Tired of your cat constantly meowing for attention? Keep their minds challenged and their bellies full with Petstages Mousin Around Hide N Treat. This unique treat dispenser toy encourages foraging play, giving your kitty a chance to earn their treats.
Check Price on Amazon
Simply fill the toy with nibbles and let your cat bat, swat, or kick it around to release a tasty reward.
Hide the three mice around your house for an interactive treasure hunt. Your feline friend will love stalking their feathery prey and you'll love watching them have a blast.
Best of all, this toy is made with food-safe materials that are BPA, PVC, and phthalate free. So go ahead and give your kitty some fun with the Petstages Mousin Around Hide N Treat.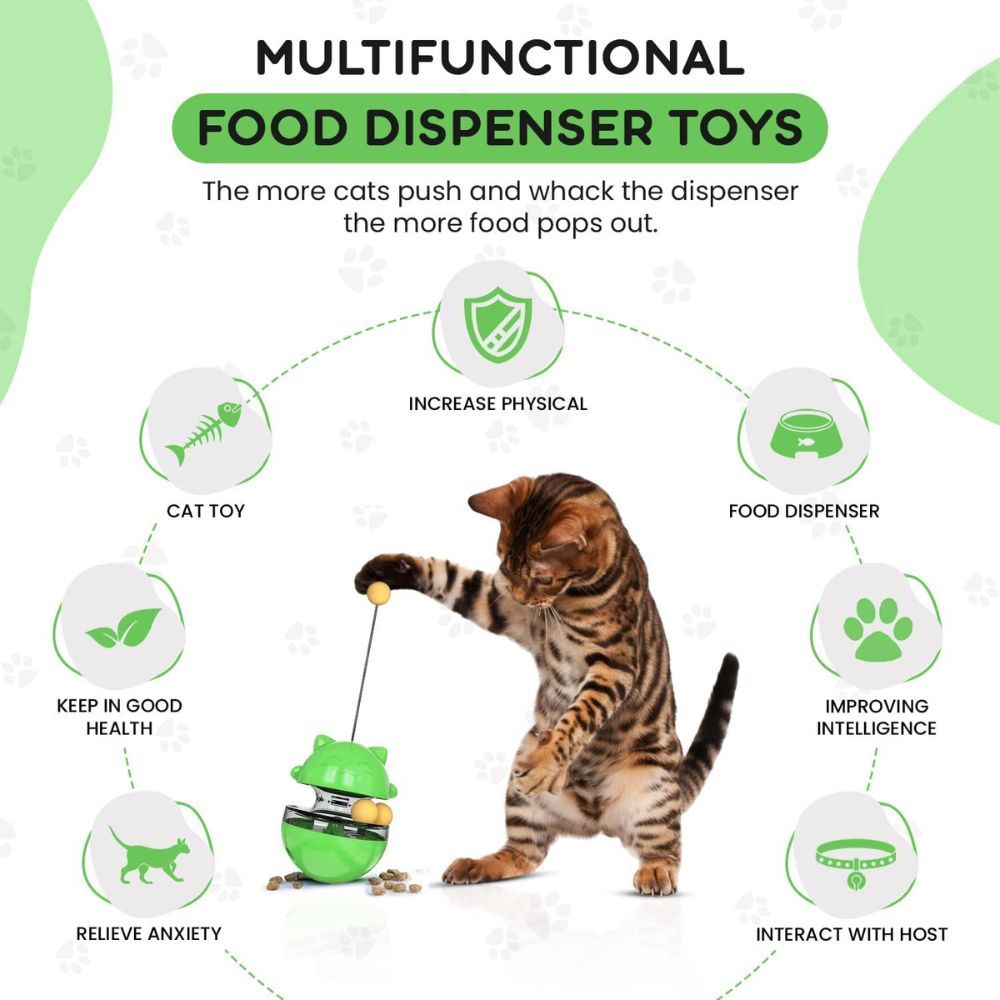 Introducing the 4leggedCompanions multifunctional treat dispenser toy - this toy makes it fun and easy for your cat to get some exercise, entertainment, and yummy treats! It's like a sweet little buffet for your furry friend. With it being both a slow-feeder and a toy, you can rest assured that your kitties will get their much-needed playtime and nutrition at the same time.
Check Price on Amazon
Your cats can have an absolute blast pushing and whacking this amazing dispenser - it'll reward them with their favorite delicious treats every time!
For extra convenience, you can adjust the number of treats that fall out by simply turning the dial to open one or two holes.
The transparent compartment keeps all of those treat temptations in full view, so they'll be even more motivated.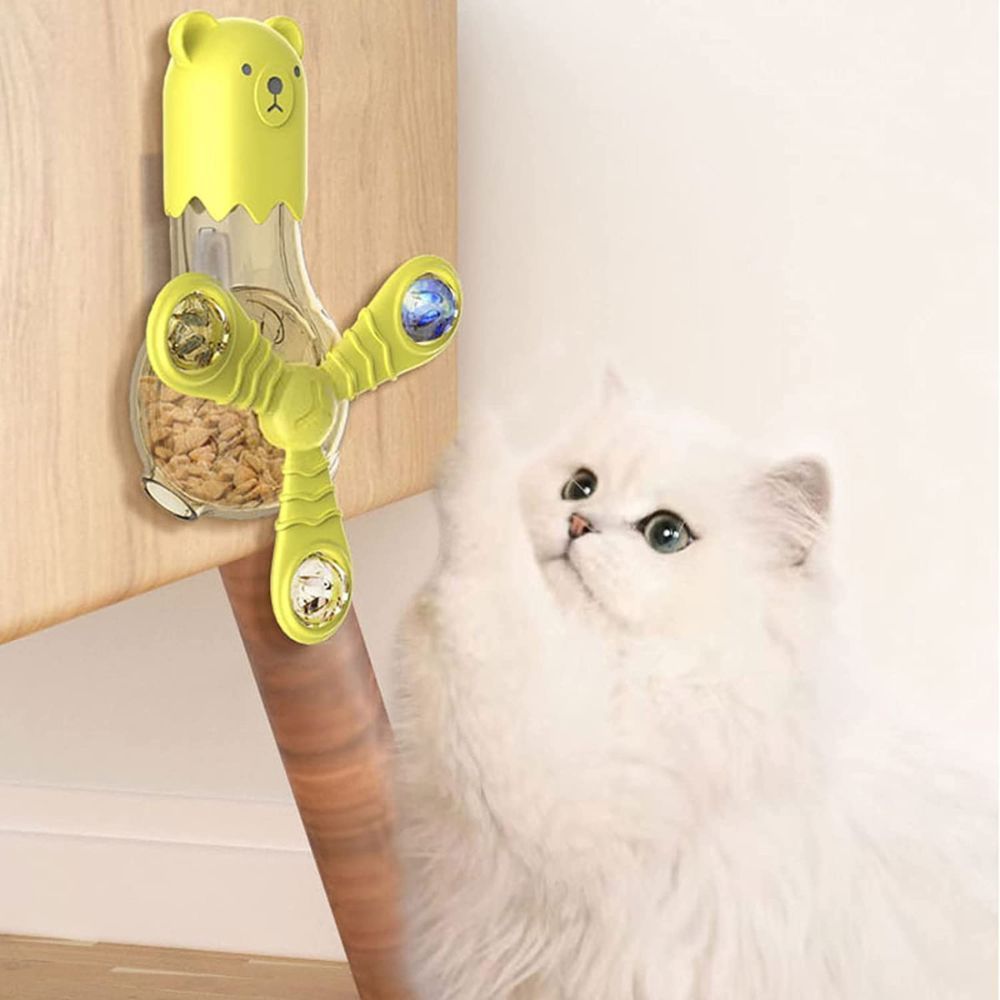 This unique treat dispenser toy is designed in the shape of a windmill and rotates 360 degrees when your feline friend flicks it. Not only will this stimulate your cat's senses, interest and help relieve anxiety, but it can also be used as a training tool with rewards. The Mapopet has a transparent food bin that you can fill with your kitty's favorite treats or food. As the windmill rotates, the food will fall through holes, providing your furry friend with a delicious way to play!
Check Price on Amazon
There are 3 Attractive Balls, each with their own special attraction, guaranteed to drive your CAT-astrophe of a cat wild.
The Catnip Ball filling their noses with its fragrant scent, the LED Ball dazzling and befuddling with red and royal blue flashes, and the Bell calling them from far away with its crisp chiming sound - they'll be so captivated they won't know what sensory experience to focus on first!
And even better yet, all these thrills can be hung at pet-level using our Transparent Sticky Hook and immediately enjoyed by kitty!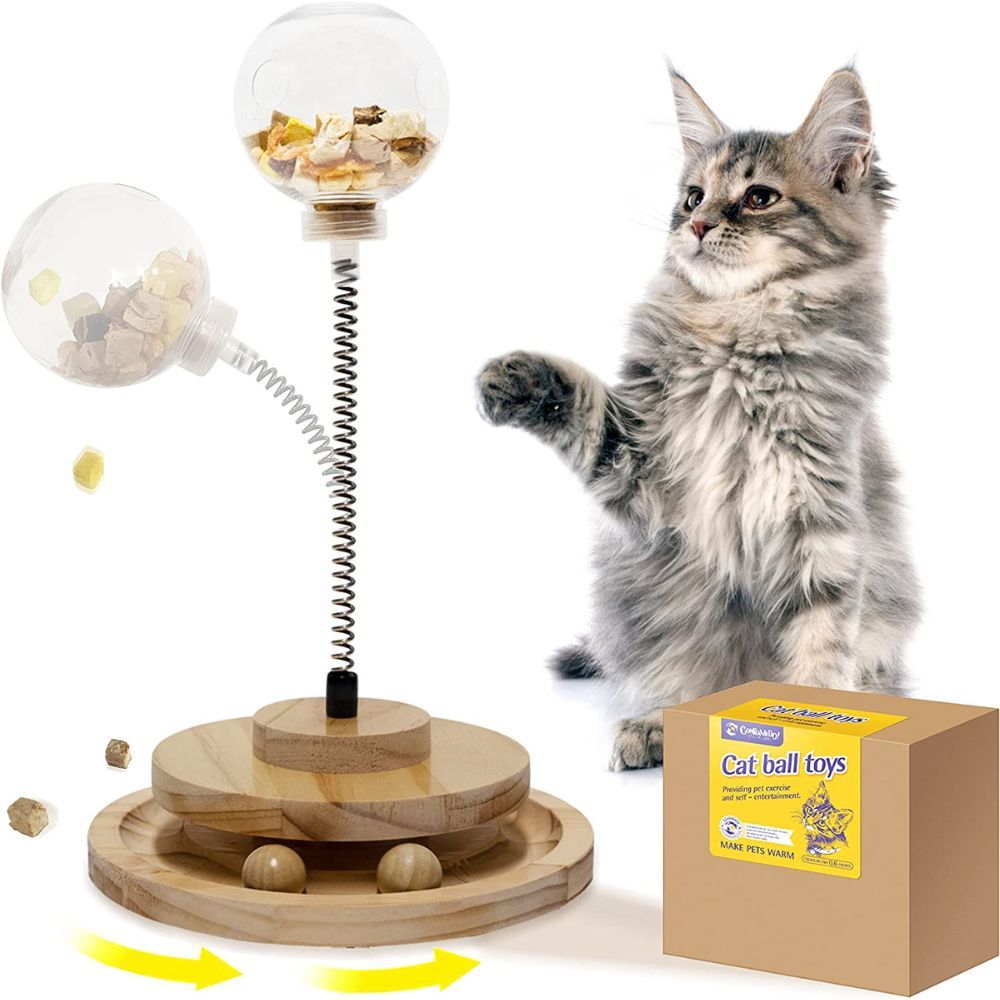 Introducing Gonramedo - the ultimate interactive cat treat dispenser toy experience! Does your cat head for the hills when it's time to play? Now, thanks to Gonramedo, you can make exercise fun for both you and your feline friend!
Check Price on Amazon
This innovative dual-function toy is both a treat dispenser toy and an orbiting wooden ball - providing endless hours of entertainment whenever you want.
Keep your cat entertained during interactive playtime by filling up the ball with treats.
Once they get their paws on the treats, they'll be chasing around the ball with enthusiasm!
The motion will help them develop their hunting skills while also getting in an excellent workout.
Your kitty won't just be having a blast either - this genius little device helps to improve a healthy weight and physical fitness too.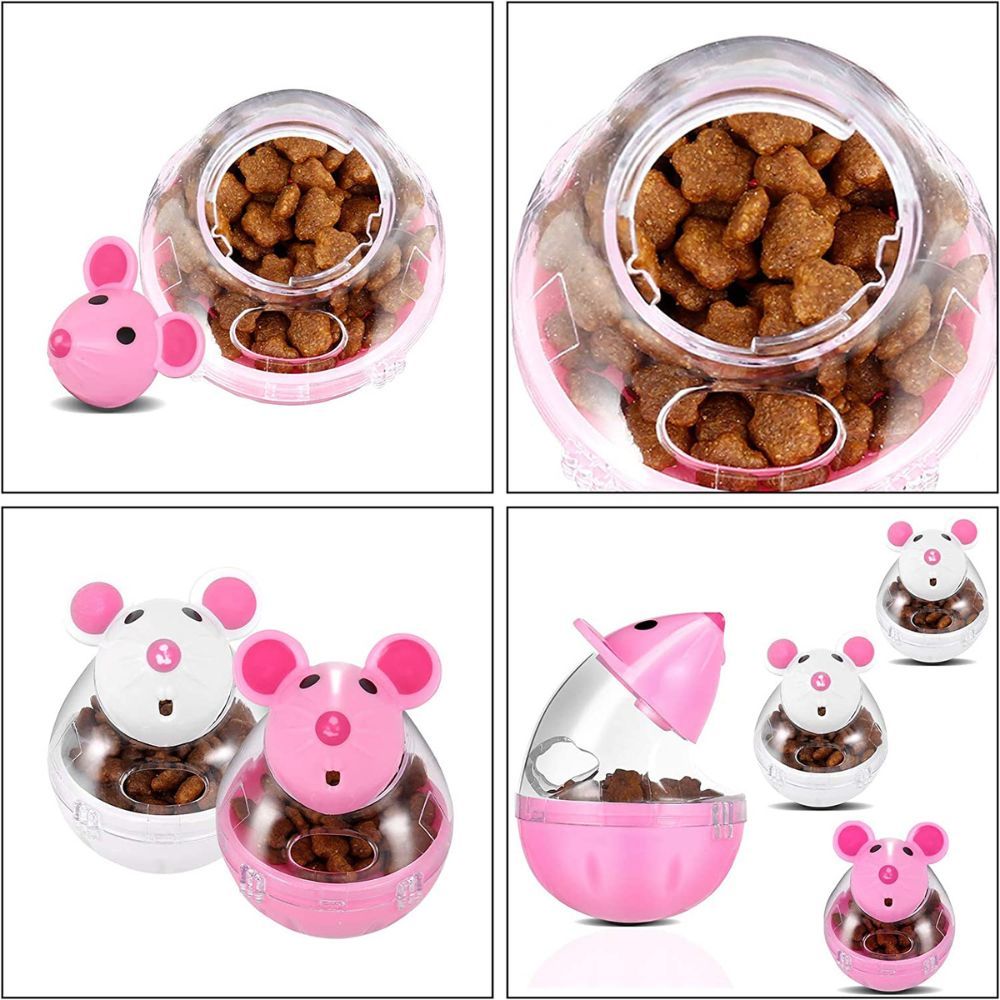 Looking for a fun and interactive ball toy to keep your pet entertained? Look no further than the PORTOWN! This awesome interactive cat toy is designed to relieve boredom and keep your furry friend occupied for hours on end.
Check Price on Amazon
Made of quality plastic material, the PORTOWN is safe to use and perfect for rewarding or accompanying your pet. Simply twist off the top, add treats or food, and replace the top to secure.
The top cannot be easily pulled off by your pet, making it super easy to use. Plus, the transparent storage tank makes it easy for your pet to find the food inside. After use, twist off the top again to wipe the inside clean.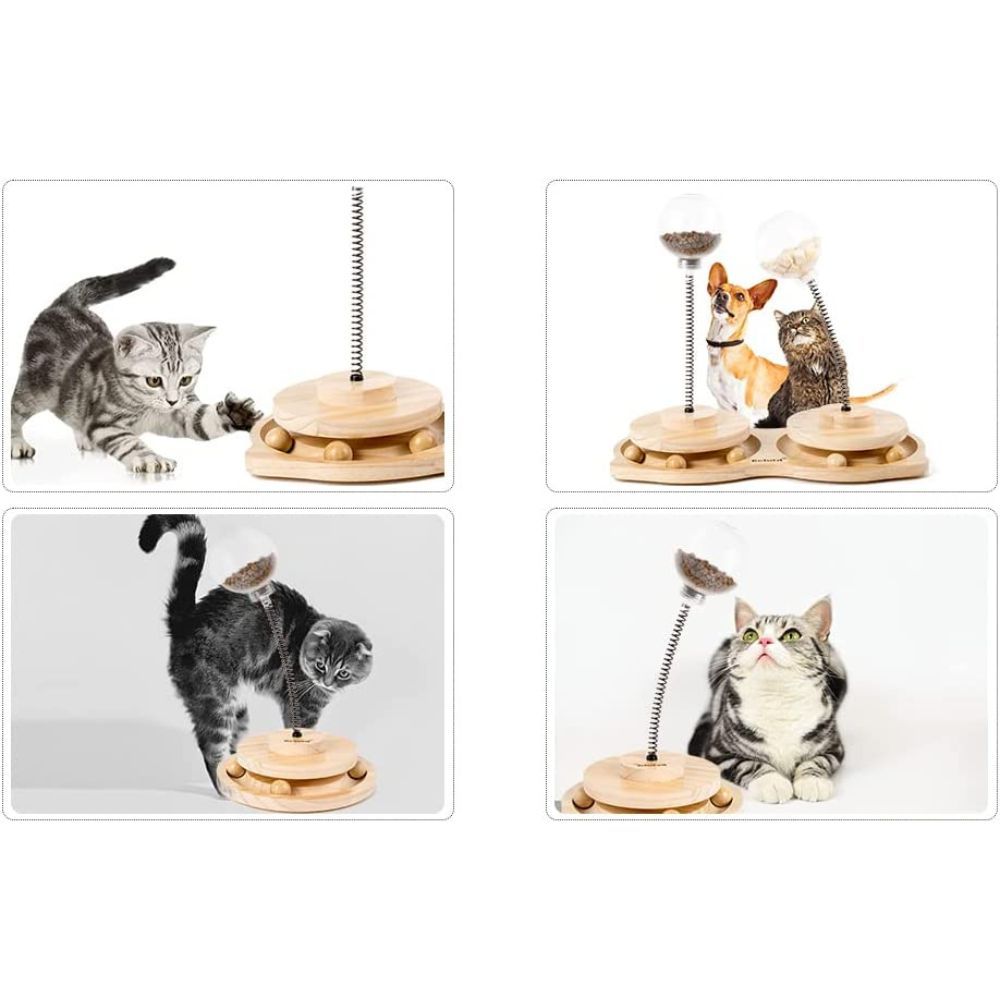 Introducing the newest must-have cat accessory: Kelutd! This amazing stack and sturdy construction are sure to stand up to your furry friend's wild scratcher antics, and it's a purrfect way for them to have fun all day. With its detachable multi-layer design for easy cleanup and non-slip base to prevent rollover, this treat dispenser toy will definitely become a hit with your kitties.
Check Price on Amazon
Kelutd isn't just great for felines, though — it'll also keep their humans happy too! Worried about leaving your fur babies home alone?
Not an issue when you have Kelutd on the scene, since this interactive toy can provide hours of enjoyment without any effort from you or another human.
Even better, two or more fur babies can play together with it and become even better friends in the process!
Thanks to its built-in sensor that automatically turns direction when obstacles are detected, Kelutd can work on tile flooring, wooden floors, or carpets alike.

Treat Dispensing Cat Toys FAQs
Cat parents are always looking for new and interesting ways to keep their feline friends entertained, but they may not know where to start when it comes to treat dispensing toys.
There are a lot of different types of cat dispenser toys on the market, and it can be hard to figure out which ones are worth your time and money.
We've compiled a list of the most frequently asked questions about treat dispensers so that you can make an informed decision about what's best for your feline friend.
Are treat toys good for cats?
The short answer to the question of whether treat toys are good for your furry companions is a resounding "Yes!" After all, everyone loves treats, and what better way to indulge your finicky feline friends than offering them a fun toy full of tasty rewards!
Not only do dispense treats offer your furry friend an exciting way to enjoy their snacks, but they also provide mental stimulation and physical activity - something that's important for any pet.
When cats have access to these kinds of interactive toys, it offers them a great opportunity for exercise while still having plenty of time for napping.
What treats are irresistible to cats?
Cats are pretty discerning when it comes to treats, but there are a few that they simply find too irresistible to ignore.
The most popular treat for cats is tuna or salmon – either fresh or canned. Any type of fish-based treat will be welcomed with enthusiasm, and you can also mix in soft cat treats for added flavor!
Other treats that cats love so much include cooked eggs (scrambled or boiled), cheese, and even pieces of lean beef.
For those looking for more "natural" (but still delicious) options, try putting out small dishes filled with pet-safe fruits like bananas, apples, blueberries and strawberries. Just make sure they're washed thoroughly before serving!
Why you shouldn't give your cat too many treats?
When it comes to giving your cat dispense treats, moderation is key. After all, cats may be cute and cuddly on the outside - but inside they are still wild animals!
Too many treats can lead to an unhealthy lifestyle for your furry friend. Here's why you should practice portion control and give them only in moderation:

First of all, too many treats can lead to accelerated weight gain in cats. Obesity doesn't just cause physical health problems like arthritis and diabetes; it can also put a strain on their internal organs due to extra stress being placed on them. This could mean a shortened life span for your beloved pet if you're not careful!
Second, cats need certain nutrients from their food that treats just don't have - things like proteins and vitamins that are essential for healthy skin, coat maintenance and vision health. While it's okay to occasionally treat them with something special once in a while, regular consumption of sugary or fatty foods will deprive them of beneficial nutrition they need to stay active and healthy.
Are liquid treats good for cats?
No doubt about it! Cats love their liquid treats. Not only are they a great source of hydration, but they can be a tasty and healthy part of their diet.
Liquid treats for cats come in many forms, from canned cat food to special nutritional drinks and supplements that are specifically tailored for felines' needs.
Canned food is especially great because it provides cats with additional moisture, which helps them stay hydrated since mammals typically obtain most of the water they need through their diet instead of drinking water.
In addition to providing moisture, canned foods contain essential vitamins and minerals that cats need as well as other beneficial nutrients like omega-3 fatty acids, antioxidants, and probiotics that help support pets' immune systems and digestion.
Is it OK to give your cat treats every day?
Sure, why not? After all, cats are people too! Treats can be a wonderful way to show your cat some love and let them know they're valuable members of the household.
But there's one caveat: while treats are totally okay to give your cat on occasion, you don't want to make it a daily habit. Overfeeding cats—particularly with treats that are high in fat or sugar—can lead to obesity and other health issues for them down the line.
Should you leave cats toys out at night?
Sure, you can leave cats toys out at night as a way to keep them entertained while they're awake. However, there are some important considerations to take into consideration before doing so.
First of all, if your cat is an indoor kitty make sure the toys aren't too large for them to play with safely in their enclosure.
Due to their curious nature, cats may attempt to chase after something that's too big or even swallow it (and no one wants that).
It's also important that you pay attention to any strange behaviors or signs of distress your kitty might show around the toy; this could indicate an allergy or fear and it should be addressed immediately by a professional veterinarian.
What treats do cats love the most?
Cats are enigmatic creatures, and it can be hard to know exactly what they like best - however, when it comes to treats, the options are endless! From meaty cuts of tuna or salmon to crunchy store-bought dry kibble and even homemade snacks like the famed 'catnip popsicle', cats love them all.
What do cats like for a special treat?
Cats are unique creatures and one way to demonstrate your appreciation for their individualism is by giving them a special treat!
If you really want to show some love, why not customize it? Many cats absolutely adore treats that combine herbs, vegetables, and fish!
Consider adding dandelion greens, parsley or chamomile flowers as healthy alternatives to regular canned or dry food.
Crumbled cooked egg can also be added which helps with coat shine and strength!
Adding salmon oil will add extra flavor plus supplements their dietary needs with essential fatty acids. You can also offer small bits of boiled chicken or turkey breast without skin and bones.
Will using a food dispenser toy help with healthy eating habits?
Is your cat having trouble getting the recommended servings of kibble each day?
Well, if your furry friend suffers from a case of the picky-eaters, then a food dispenser cat toy might just be the solution you're looking for!
Not only do these interactive toys help keep cats mentally and physically stimulated, but they can also help encourage healthy eating habits.
Can you use dry food and wet food in a cat food dispenser?
It's possible to use both dry and wet food in a cat food dispenser, but it really comes down to personal preference.
Some cats like the convenience of an automated feeder with fresh wet food, while others may prefer dry kibble to maintain their oral hygiene.
The important thing is that you should always make sure your pet has plenty of water available when using a cat food dispenser since they can't drink out of the unit itself.
Additionally, some pet parents choose not to use cat food dispensers for wet or mixed foods as these can attract bugs or spoil quickly if not properly stored.

Best Cat Toy Dispensers!
Overall, finding the right toy dispenser, at a very affordable price, for your fur baby can be quite a challenge. We hope our review and recommendations make the process a little easier.
With lots of patience and a few trials, you can find just the right one that will keep your feline friend entertained for hours with little effort from you.
Here's a summary of our picks:

Best Kitten Puzzle Toy: TACKDG Cat Treat Dispenser
Best 3 Pack - Treat Dispenser Cat Toy: Petstages Mousin' Around Hide 'N Treat
Best Tumbler & Holder for Treats: 4leggedCompanions Cat Food Dispenser
Best Cat Feeder Toy for Food or Treats: Mapopet Cat Enrichment Toys
Best Slow Feeder Spring Toys: Gonramedo Cat Treat Dispenser Toys
Best Slow Feeder Mice Shaped Tumbler: PORTOWN 4 Pcs Cat Food Ball Dispenser
Best Pet exercise Toys: Kelutd Interactive Cat Feeder Toy

And before you head off, don't forget to tap the buttons above to check the prices and reviews on Amazon for the best treat dispenser toy! Thank you for reading.
Happy Shopping!! :)