Are you looking for the perfect way to give your cat a cozy place to hang out?
Window Cat Hammocks are the perfect solution!
They provide your furry friend with a comfy spot on the window - allowing them to enjoy natural light and sunshine while comfortably lounging in their cat window bed.
Plus, they can also act as an excellent space-saving option that seamlessly fits into any room.
Not only will your cat be happier but the wide range of options – from simple fabric models all the way up to ultra-luxurious picks – means there's something for everyone in this collection.
With something special for any personality or lifestyle, Cat Window Seats truly have it all!
We hope you find everything you need and more from the picks we've shared! Each product was independently selected by our editors. Also, PawsPicks may collect a share of sales or other compensation from the links on this page if you decide to purchase something (that's how we stay in business).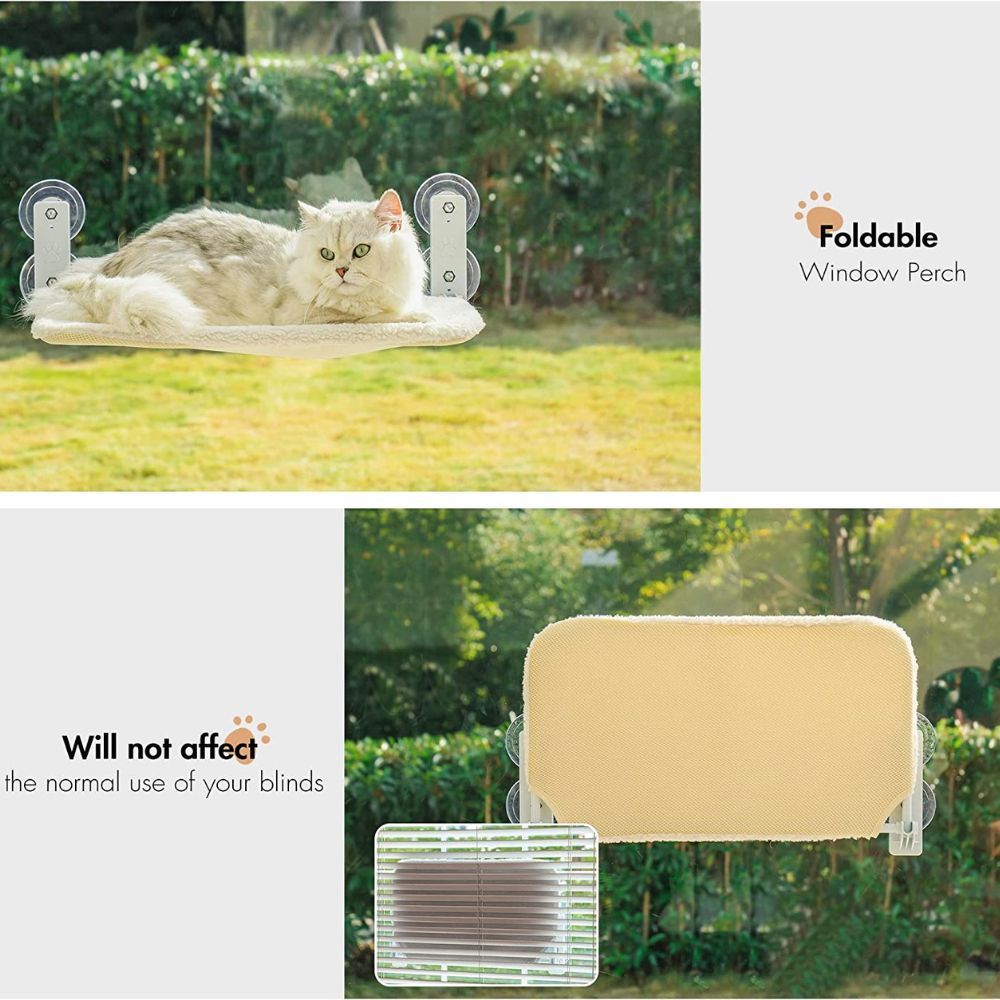 Introducing Mewoo – the revolutionary cat window perch cover that provides year-round comfort for your pet!
With its reversible design, it ensures all cats can enjoy a comfortable spot on their favorite sunny window sill.
The airy breathable mesh side helps keep them cool in the hot summer months, while being switchable to a thick soft plush side for those colder winter days.
It also includes an innovative foldable design allowing you to pull the blinds back down as needed without disrupting the perch itself.
Check Price on Amazon
If you're looking for a great way to spoil your fluffy indoor cats, the Cat Window seat has you covered.
Assembling it is a breeze - literally taking only 5 minutes - while still able to handle up to 30lbs of weight, so whether you've got multiple cats or the equivalent of a large cat, the rest-station will be sturdy and safe.
Cats love warmth and what better way to get their paws on that precious warmth than with this 360° sunbathing experience?
They can easily climb up and down for some much deserved R&R or watch as birds fly by without leaving the comfort of their window-perch.
Introducing Lcybem: the perfect way to keep your cat content and comfortable while maintaining a tidy living space!
This clever window perch has everything cats want in a lounging spot – it's comfy, well-ventilated, and best of all, offers 360° sunbathing for your furry friend.
What's more, its space-saving design won't take up too much precious floor room that could be populated with silly string!
With Lcybem, you can ensure that your pet is as content and relaxed as possible without having to worry about mess or lack of sunlight. Keep your kitties of the window ledge and let the lazy days begin with the help of Lcybem!
Check Price on Amazon
Looking for the purr-fect spot for your pet? Introducing the cat window hammock!
This unique design is made out of a breathable black mat and PVC, with steel wire wiring to ensure your cat's body temperature won't overheat.
Its sleek and modern design measures 21.7" x 13.8" ( L x W ) with a stainless steel cord length of 29.5" and 4 suction cups each measuring 3.3".
To support your dear fur baby, it can hold up to 33lb of weight; it's perfect for medium cats and large cats!
And worry not, installation is easy – just suction onto any window glass that has the minimum size of W 24 x H 26 inches and voila! You can now let your furry friend laze away in their comfortable new spot!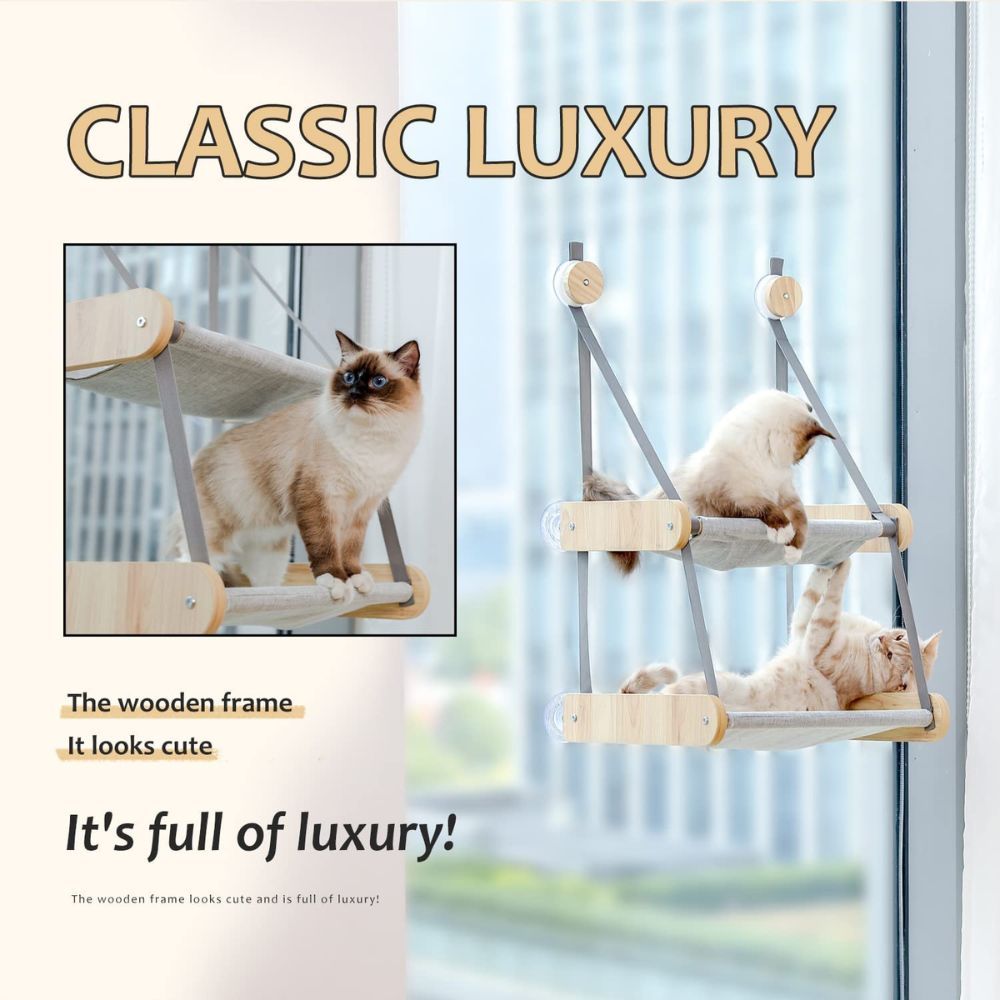 Are you looking for a high-quality 2-layer cat window perch? Look no further than our PEQULTI.
This cat window seat is designed to bring your cats the best view in the house!
The two layers provide plenty of room for your furry friends, with an upper layer measuring 11.81'' x 18.11" and lower layer 15.75" x 18.11" — making it great for multiple kitties households!
And it gets even better: no more worrying about if your cats are secure while perched, as this window seat comes complete with four strong suction cups that reach out up to 3.5 inches in diameter, plus two extra reinforced suction cups that hold up to 50lbs each!
Check Price on Amazon
This cat wooden hammock is perfect for anyone looking for a quick, easy, and space saving solution to their cats' cozy sunbathing needs.
Easily stuck on the window with suction cups that take no time at all to secure in place, this window bed will provide your cats a quiet and distance-filled space to relax in without sacrificing any precious real estate within your living room.
Clean off the window area before installation to ensure it sticks properly, and soak it in warm water for even stronger suction. Simple as that - now your cats are lounging in style!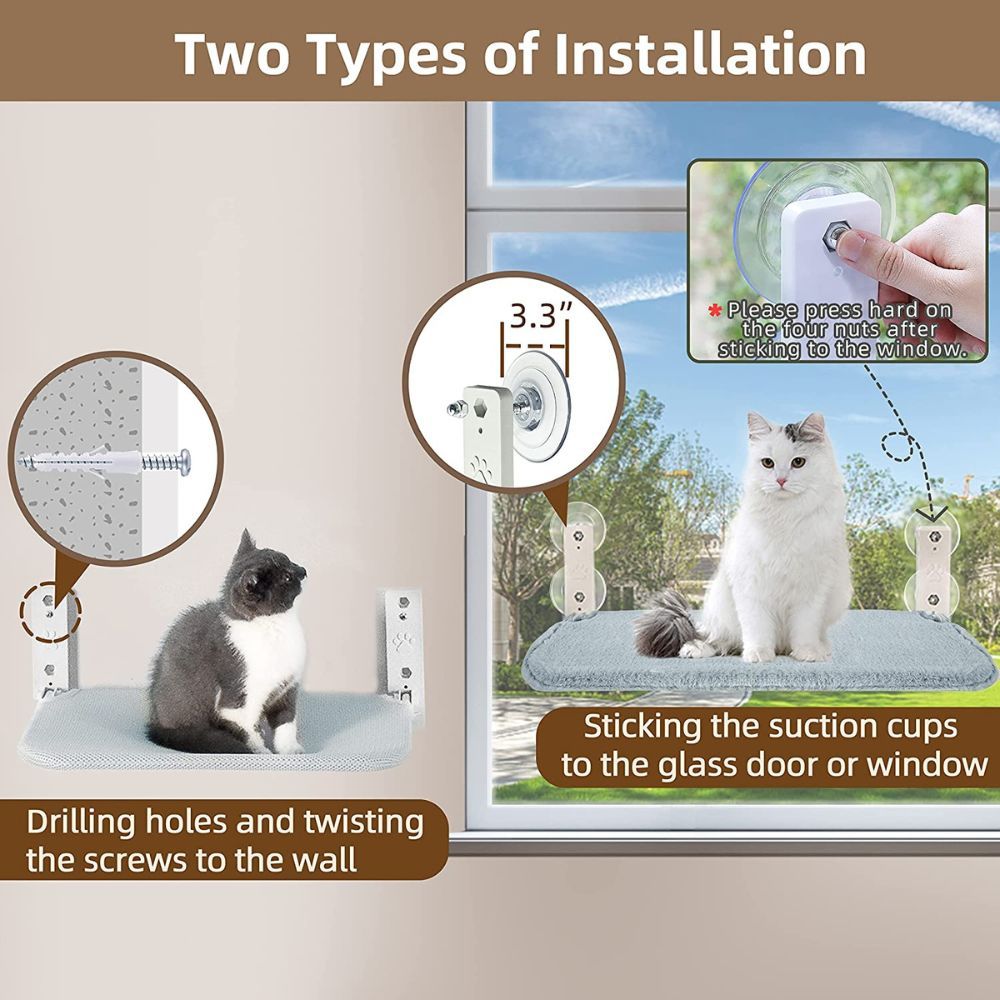 This cat perch is designed with your cats' comfort in mind—from its sturdy stainless steel frame that provides unparalleled support to its generously sized beds (20.5"x11.8"x6.9", 23.8"x11.8"x6.9") that offer plenty of space for all of your pet's resting needs, the AMOSIJOY cat perch is the perfect choice for spoiled kitties everywhere!
But that's not all — this cordless cat window bed is also foldable, ensuring it won't take up valuable space when you need to store it away.
And, best of all, you can trust this product to keep your furry pal safe and secure—it can bear up to 30lbs weight limit with no problem!
Check Price on Amazon
The two types of fabric on the AMOSIJOY cat bed can help make your cats comfortable in both hot and cold temperatures.
Plus, they're bite and scratch resistant and don't have any funny chemical smells. Not only that, but you can also easily pop the cover off and give it a wash when it gets a bit too grubby from all that playtime going on.
But the versatility doesn't end there - this cat window seat also offers two different types of installation for your space.
Stick it to your glass with four super strong heavy duty suction cups, or hang it up wherever you think kitty might like to swing about or take an afternoon nap!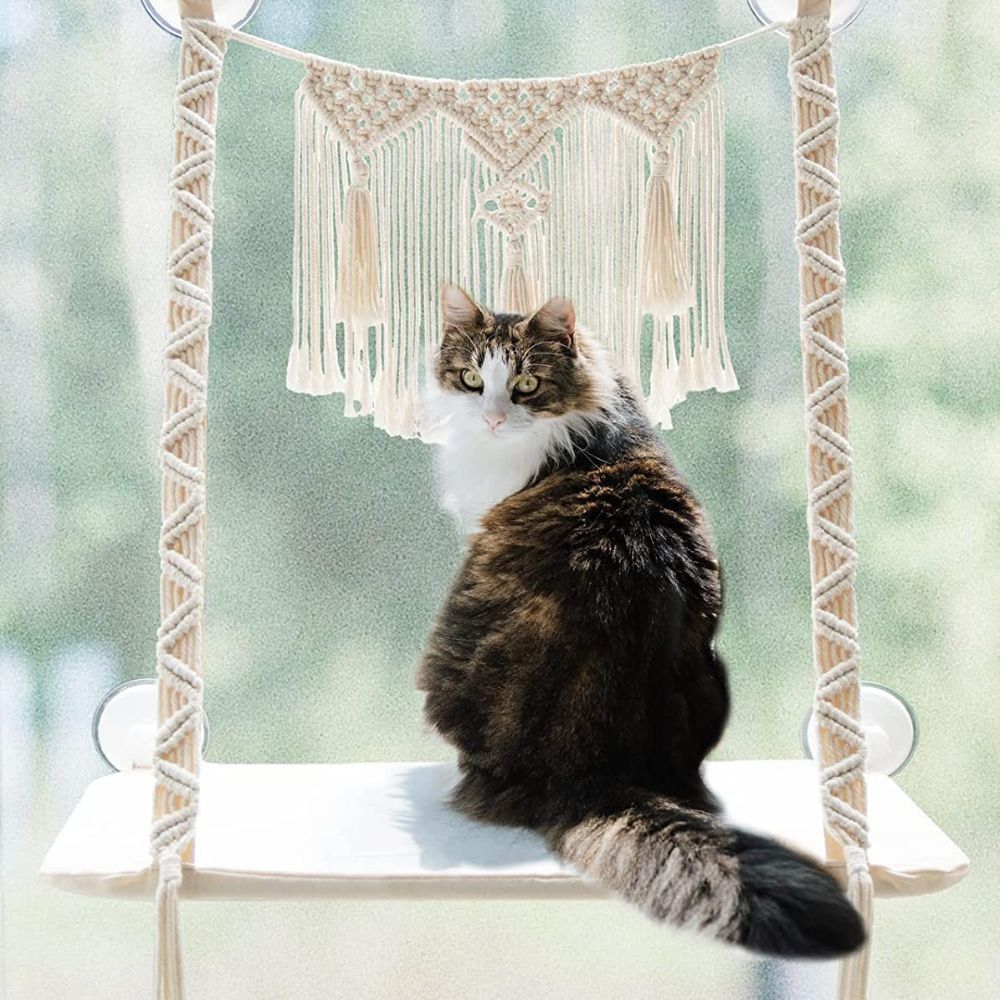 Say hello to Dahey, the Cat Window Bed! This unique product is perfect for keeping cats cool and snug all year long.
Crafted from breathable woven fabrics, this macrame braided cat bed helps cats stay cool in the summertime by allowing them to lose heat as needed.
And in the wintertime, add a mattress to turn this kitty cot into a warm and cozy perch – your kitty will thank you for it.
The sturdy iron frame is strong enough that your cat won't be able to bite through it or break it easily – it can even hold up to 45 pounds weight limit safely and securely.
Add these four strength giant suction cups and your cat will be able to jump in (and out) of their window seat with ease.
Not only is this great exercise for them, but also ensures good health too!
Check Price on Amazon
This hanging cat window bed is perfect for cat lovers who want to give their furry friend an elevated view of the world.
It can be mounted in the window or wall without taking up valuable space in your home and can provide your cat with a 360 degrees of sunshine without needing to move around.
Depending on the angle of your window, it can give your feline friend exceptional views of nature, weather, and people out in the world - all from the comfort of their own hammock!
Plus, installation and disassembly for this window cat perch is extremely easy - just simply fit the tubes into place and you're done!
Holes will need to punched into walls if you choose to hang it that way, but with all its features, this boho chic hanging cat bed has everything modern cat owners need.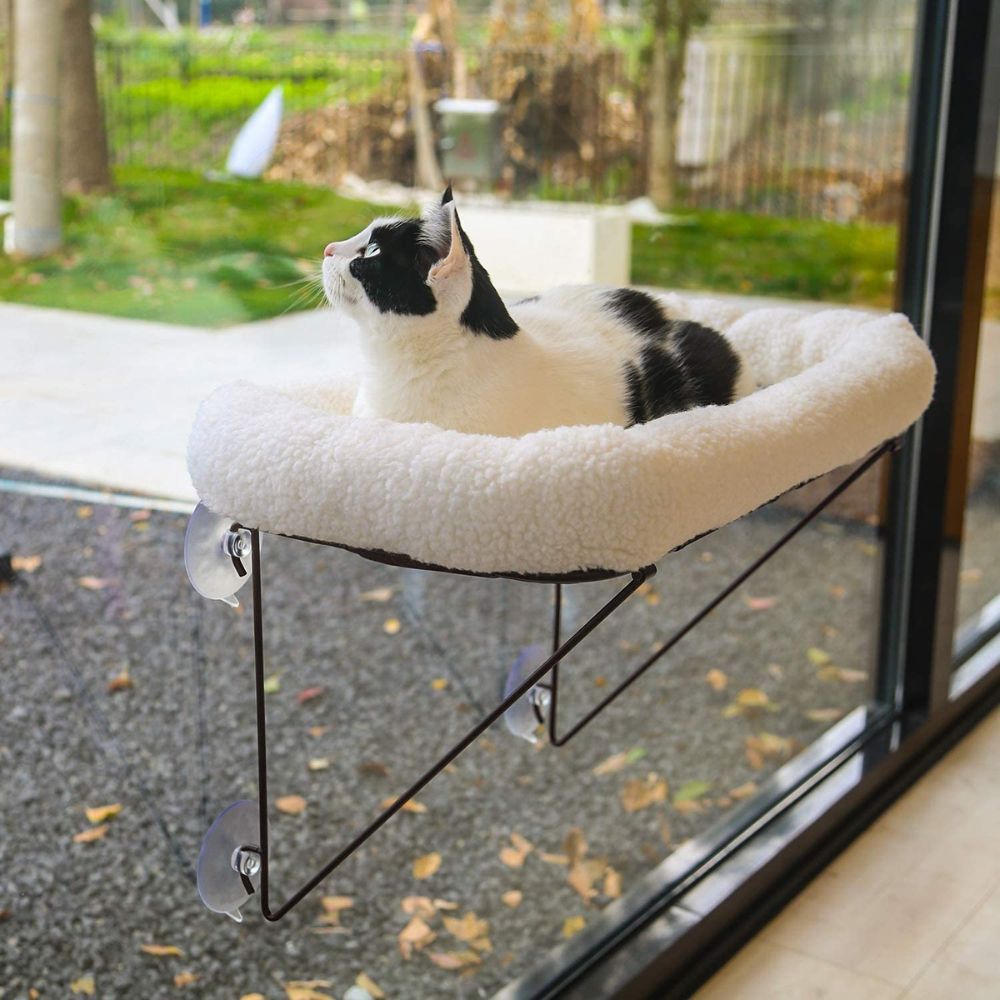 Introducing Zakkart Cat Window Seat – the must-have iron cat window seat for your furry friends!
This 100% iron wonder is sure to amaze with its strength, holding up to 40 lbs. Your cats won't need to worry about wobbling or unsteadiness when they jump from all heights, no matter how high or low.
The genius triangular-shaped arms support from below, and you'll have full access to your space with no cables blocking the way.
Plus, this machine washable cover, super-powerful cat window seat is easy to maintain! So give your cats a cozy cat perch of their own and choose Zakkart today.
Check Price on Amazon
Shopping for a cat person to give an amazing gift to? Look no further – the cat perch is the perfect present!
Installing the cat perch only takes seconds, with no tools needed. Simply attach it to any window and let your cats relax in comfort.
Plus, you can sleep easy knowing that your cats will safely lounge in their hammock without doing something dangerous, like climbing up curtains.
It's all around the ideal gift for a feline enthusiast who loves to spoil their precious cats!

Here's a summary of our Picks:
Window Beds FAQs

You love your cat, but you don't want them climbing all over the furniture.
Cats are curious by nature and will often climb to the highest spot they can find in order to get a better view of their surroundings.
This can often lead to them jumping onto furniture or other objects that can be dangerous for them.
Window Beds is the perfect solution for keeping your cat safe and providing them with a comfortable place to relax.
We've put together this FAQ section to answer any and all questions you have about Window Perches. By reading through it, you'll be able to make an informed decision about whether or not this is the right choice for you and your furry friend.
What is a window cat hammock?
It's an amazing piece of tech designed specifically to help keep cats safe and comfortable while they enjoy the sunshine in a window. It's essentially a mesh, slung over one side of your window frame, that allows kitties to lounge without fear of falling out - or getting their claws caught up in the blinds.
The idea behind these nifty pieces of furniture is relatively simple - create an environment for your furry friend whereby they can lay back and relax with maximum comfort and safety. Cat window beds are usually made from strong, durable materials like steel or aluminum for sturdiness, but you can also find designs that use softer fabrics such as plush orthopedic foam if you want something gentler on delicate paws. These come with added features like scratch-resistant cushions, built-in toys for playtime breaks and adjustable straps for easy installation or removal when needed.
How do I use a window cat hammock?
Using cat perches are an easy and functional way to give your kitty the opportunity to enjoy their favorite activities, such as basking in warm sun rays or surveying their surroundings. Here are some simple steps for using one:
1. Find the ideal spot - A good spot for your cat's window bed should be near a sunny window, so that they can relax and enjoy the warmth of natural sunlight. Additionally, make sure it's secured at least 10 inches away from other objects like blinds or curtains to ensure they have plenty of room to move around while inside it.

2. Clean the area - Before setting up your cat window shelf clean off any dust or debris on nearby surfaces with a damp rag. This will help provide a cleaner atmosphere for them when they're taking in those nice views through their window sill!
3. Install it properly - Once you have identified where you'd like to place your cat's new cozy haven, install it according to its instructions by securely attaching each corner piece onto its appointed wall fastener/anchor point – these are typically located near elbow height on both sides of a window sill (and also include door frames and furniture).

What are the benefits of using a window cat hammock?
Cat window perches are becoming increasingly popular among pet owners due to their ease of setup and the convenience they offer. Not only do these hammocks provide cats with a cozy spot to relax and rest, but they can also be beneficial for your home in many ways.
From an aesthetic standpoint, window perches add a unique element to any home. By creating an attractive resting area for cats near the windowsill, you have the ability to quickly spruce up any room that your cat loves spending time in! This feature is extremely helpful if you're trying to make more use out of often empty or neglected areas of rooms such as underneath a window sill.

Additionally, having a window hammock provides safety benefits in multiple ways. These small window perches are perfect places for cats wanting a great view outside while still being out of direct traffic areas within your house where they could easily get hurt or injured by people walking around or curious pets who might come over and bother them while they're resting. Aesthetically pleasing barriers such as these can help create separate spaces for everyone inside the house which helps reduce pet disputes between other animals! Furthermore, if you've ever had pesky birds come flying into your windows during warmer months then having a window cat bed next to it can ward them off since most birds won't approach something that looks like it has an inhabitant (even if there isn't one).
How do I install a window cat hammock?
Installing a window cat hammock is actually quite an easy process that can be completed in just a few steps. First, measure the width of your windowsill. This will determine the size of hammock you should buy for optimum comfort and safety for your cat.

Next, make sure you find a window cat hammock that comes with strong suction cups so it can remain securely fastened to your windowsill without causing any damage. You'll need at least three suction cups to ensure even weight distribution once your kitty gets inside!
Once you've found the right size and type of window hammock, all you have to do is attach it around two sides of the windowsill using adjustable straps or bungee cords (whatever works better). Then stick on each suction cup at strategic points along the opposite side and underneath it (for extra stability). Make sure they are secured tightly before letting your furry friend in!
How do I clean a window cat hammock?
Window cat hammocks are a great way to keep your feline companions safe, comfortable and close. However, they can get quite dirty over time, which is why it's important to know how to properly clean them. Fortunately, cleaning a window cat hammock isn't difficult and takes only a few simple steps.
First off, when it comes to cleaning your cat's window hammock, you should always use pet-safe detergents and cleaning products. This will prevent any harm coming to your pet from harsh chemicals or soaps that could potentially irritate their skin or coat.
Start by removing the cushion from the frame of the hammock and spraying it with an enzymatic cleaner before using a soft cloth to remove dirt and hair from its surface. You can also submerge the cushion in warm water with mild detergent if needed for tougher stains or embedded fur balls! Afterwards make sure you rinse thoroughly before allowing the cushion air dry completely for at least 12 hours before putting it back on your frame after being sure all moisture has been removed entirely - this step is especially important if you've decided against using an enzymatic cleaner as failure to do so may expose your kitty's skin directly with soap suds!

Once that's done then move onto wiping down both sides of the window frame as well- use either warm water alone (but remember not too hot) or diluted white vinegar solution depending on what type material was used during construction (wood/metal etc). Again be sure all moisture is removed here too - otherwise rust spots may form over time due its exposure outdoors! Afterward check any hardware used such as screws/bolts ensuring these haven't come loose because without proper maintenance these could cause potential hazards for kitty when jumping around inside her new cozy spot!
What are some of the best cat window perches?
They offer cats an excellent way to enjoy the sunny outdoors without having to venture out of their safe, secure indoor home. Available in many different forms and sizes, these window seats are designed specifically for cats and provide them with plenty of space for lounging or bird-watching during their leisure time. Whether you're looking for an elevated cat platform or a full floor-to-ceiling setup that maximizes natural light within your living room, there's sure to be a style that fits perfectly into your home.
One of the most popular cat perches is known as the Kitty Cot World's Best Cat Perch. This unique piece provides enough space so that multiple cats can share it at once while offering plenty of comfort thanks to its heavy-duty PVC frame and ultra-soft plushy covering. Its slender design is ideal if you don't have much extra real estate around your windows while remaining sturdy enough to support larger breeds and multiple critters at once.

If endless views from all angles is what you're after then definitely check out The Vista Twin Window Cat Seat! This dual tier setup features two large platforms secured together by four durable metal supports giving cats easy access from either side of the window - talk about multipurpose functionality!
Is the Oster Sunny Seat a better brand than K&H pet products EZ Mount?
The Oster Sunny Seat has a unique design element that allows it to easily mount and detach from any horizontal or vertical surface - perfect for cats of all sizes. The mounting mechanism is made with heavy-duty steel and the actual seat itself is durable and covered in waterproof fabric, providing incredible protection against the elements. Additionally, its size is adjustable and can fit windows up to 17" in height; making it ideal for a variety of living spaces regardless of their dimensions. Plus, it comes equipped with three industrial strength suction cups that guarantee uncompromised stability while your furry friend takes in some sun!
Best Window Cat Hammocks on the Market!

All in all, our mission was to help cat owners find the best Window Cat Hammocks at an affordable price.
We achieved that goal, and we're positive that you can too with the options we provided.
So if you're looking for a comfortable solution for your cat's night-time lounging, higher-priced doesn't necessarily mean higher-quality for these Window Cat Hammocks.
You won't have to sacrifice quality or comfort when buying on a budget - just do your research and make sure to read reviews like the ones we gathered.
Now it's time for you to take action, pick one of these hammocks, tap the button to check the price on Amazon and relax knowing you got an awesome deal.
Happy Shopping!!