Do you want your pup to have sweet dreams?
Of course you do! And the best way to make sure that happens is by getting them some cozy pajamas. Not only will they love sleeping in them, but they'll also be nice and warm on those cold winter nights.
We've rounded up the 5 best pajamas for dogs on the market today, so there's definitely something for everyone.
Whether your pup prefers a soft t-shirt or a snuggly hoodie, we've got you covered. Check out our list and find the perfect pair of pajamas for your furry friend today!
We hope you find everything you need and more from our product picks! All of the products were independently selected by our editors, and PawsPicks may receive a share of sales or other compensation if you purchase something through one of the links (this is how we stay in business). Some of the products may have been sent to us as samples so that we may tinker around with them ourselves, but all opinions in this article are our own. Thanks for shopping with us, and we hope you enjoy finding everything you need and more!
How We Choose The Best Pajamas For Your Pup
It can be tough to keep your pup warm during the winter months, especially if they're not used to the cold.
Almost half of all dogs in the United States live in areas that experience cold weather for at least three months out of the year, and many people struggle to find ways to keep their furry friends warm.
These pajamas are perfect for keeping your pup cozy and warm during the winter months. We've read over thousands of top starred reviews on Amazon to find the best pet pajamas to keep your pup cozy and warm.
We have a variety of different styles and materials to choose from so you can find the perfect pair for your pup. From soft cotton pajamas with breathable material to stretchy fabric for large breed dogs.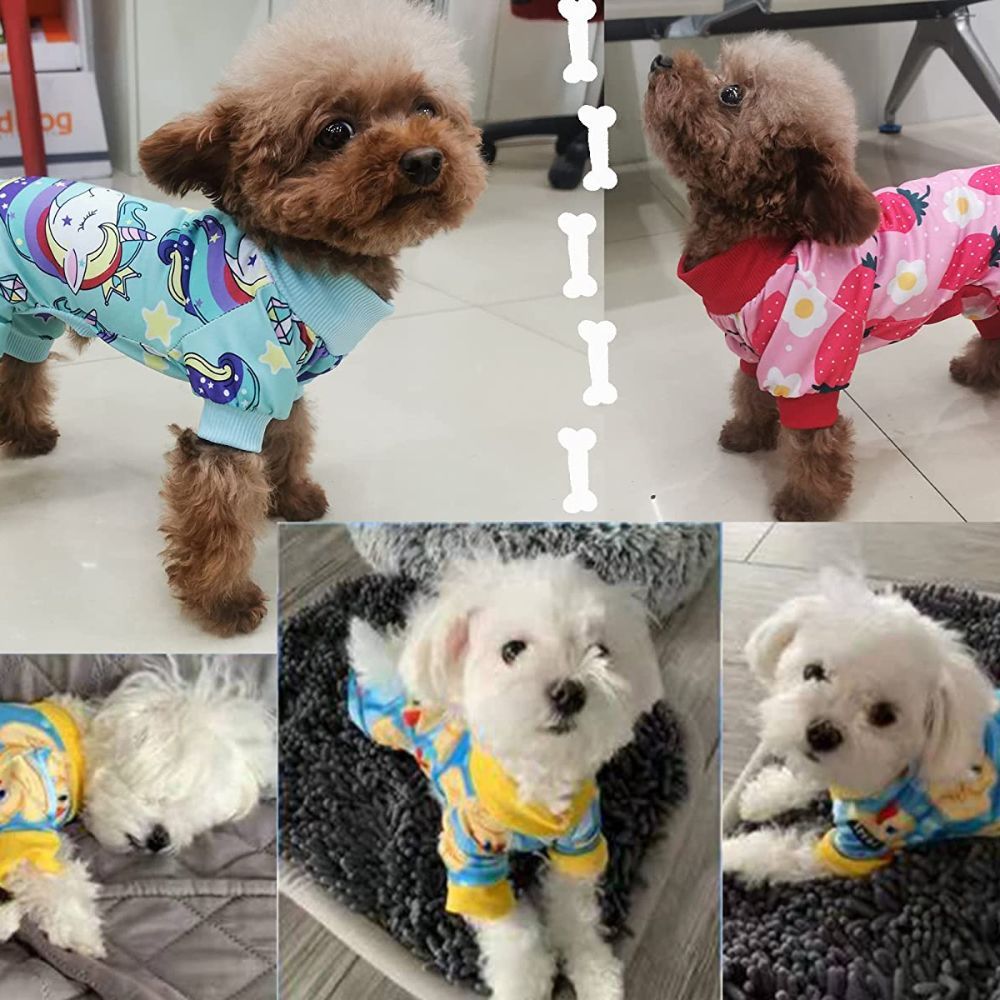 4 Piece Dog Pajamas For Small Pups
Check Price on Amazon
Reasons We Love It
Dressing up your dog has never been easier or more fun with these XPUDAC puppy pajamas! These cute and stylish outfit options are perfect for any occasion, whether you're pet parents  taking your dog for a walk in the park or just letting them lounge around the house in comfort.
Made from a soft and cozy material, these dog pajamas will keep your pup warm and comfortable all day long. With so many different pattern and style options to choose from, you're sure to find the perfect look for your furry friend.
Thing You Should Know
If you have a small dog, then you know that they need their own special kind of clothing. Small dog pjs are designed to fit snugly, keeping your little pooch warm and comfortable all night long. And because they're made specifically for small breeds, you can rest assured that they won't be swallowed up by fabric or too loose and fall off.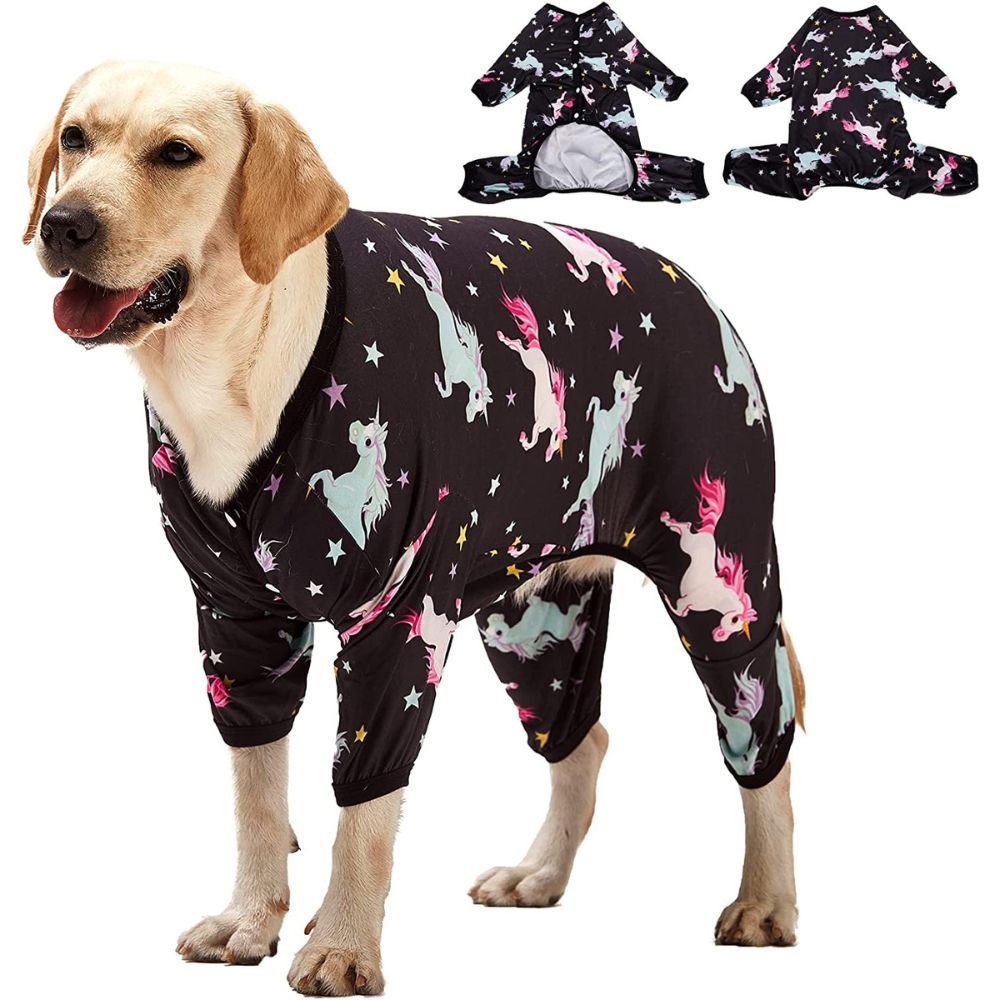 Best Pajamas for Large and Medium Dogs
Check Price on Amazon
Reasons We Love It
LovinPet pajamas are specially tailored to reduce hair loss and prevent skin irritation, making them perfect for outdoor activities like playing on the lawn.
Made from a lightweight and super soft comfortable material, they're also great for keeping your dog warm and calm at night. Larger breeds love the comfort of the full body design, open belly, with extra warmth, and super soft fabric.
Thing You Should Know
LovinPet only uses high-quality, dog-friendly materials in their large dog pajamas. These materials are sweat-absorbent, soft and comfortable, warm, but not stiflingly hot.
The big dogs clothes are also designed to be relatively easy to put on and take off. And, of course, the big dog clothes can be machine washed for added convenience. Sizes ranging from M-3XL.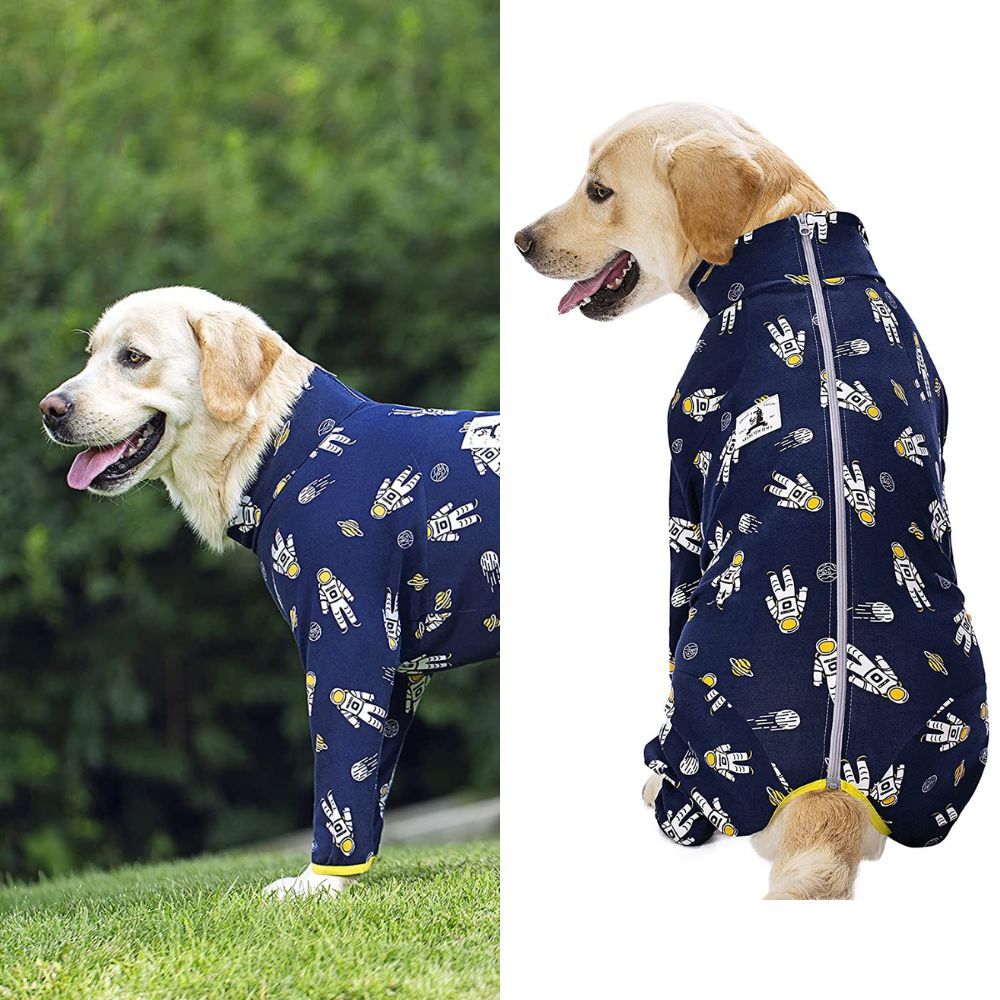 Cotton Large Dog Pajamas
Check Price on Amazon
Reasons We Love It
Miaododo is the perfect solution for keeping your dog warm and comfortable all season long. This cozy cotton sweater features a zipper opening on the back for easy on and off, and a special design under the zipper that prevents dog hairs from being stuck. Perfect for everyday wear, Miaododo will keep your dog's shedding hair off of your furniture, car, and bed.
Thing You Should Know
This jumpsuit is perfect for medium to large dog breeds, such as Golden Retrievers, Pitbulls, German Shepherds, Labrador Retrievers, American Bulldogs, Border Collies, Beagles, and Rottweilers. Made from cotton materials, it's soft and comfortable - perfect for everyday wear.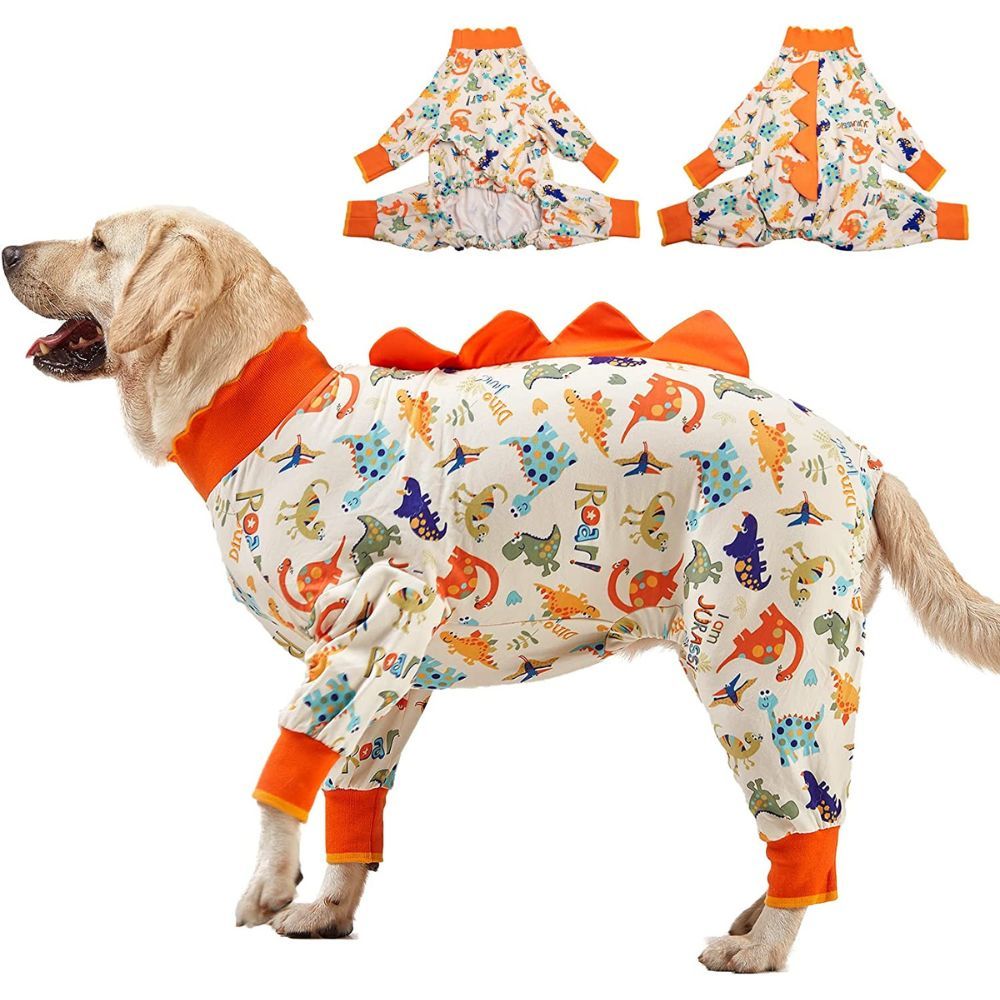 Dog Pajamas for Large Breeds
Check Price on Amazon
Reasons We Love It
Made from elastic and soft fabric, these pjs are very easy to put on and take off. Plus, they can be machine-washed without worrying about fading or deformation. So now you can enjoy walks with your furry friend without having to worry about him getting cold!
Thing You Should Know
This cute and cozy onesie is made of high-quality materials that will keep your pup warm and comfortable all winter long. The Lovinpet large dog onesie pajamas are available in a variety of sizes to fit most short-haired breeds, such as Pitbulls, Dobermans, Labradors, Rottweilers, Golden Retrievers, Huskies, and Alaskans. And best of all, the Lovinpet large dog onesie pajamas are machine washable for easy care.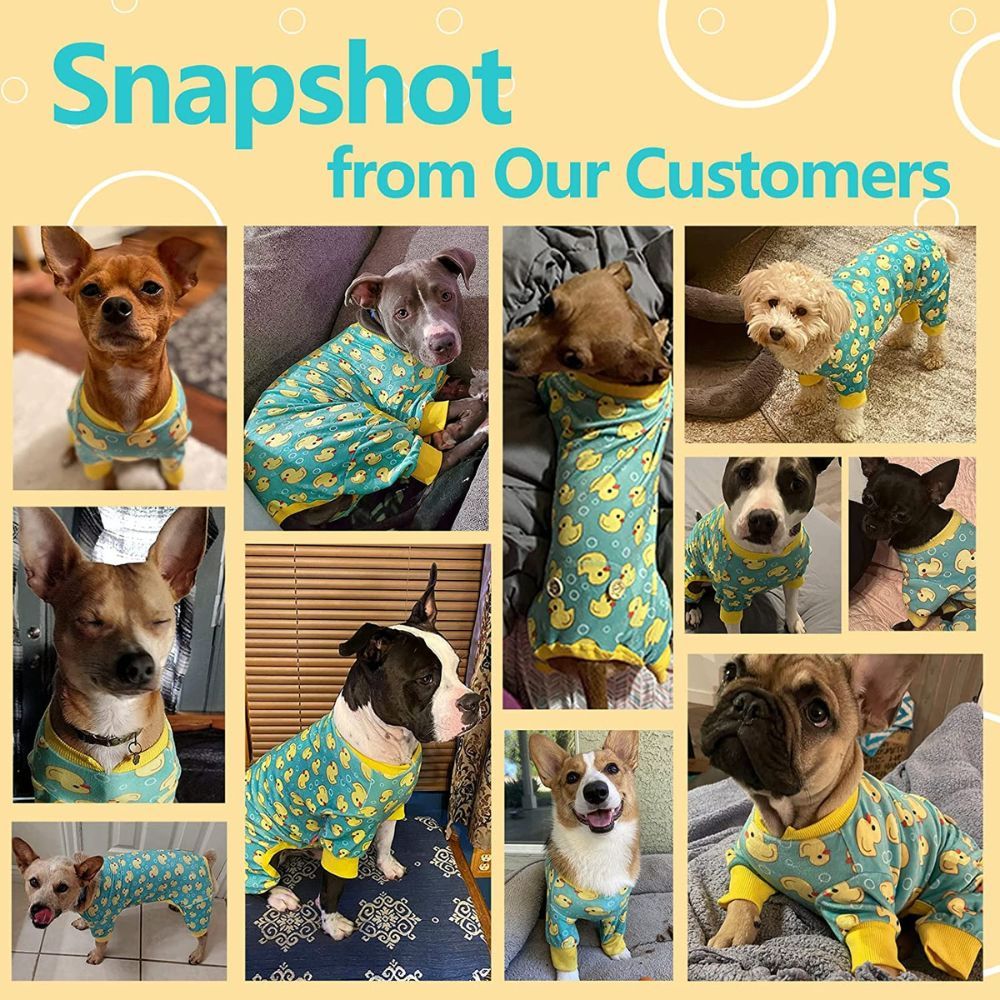 Stretchable Dog Pajamas
Check Price on Amazon
Reasons We Love It
KYEESE fashionable dog pajamas are made from soft, stretchy fabric that will keep your pooch cozy all season long.
The easy-to-wear pullover design makes putting them on and taking them off a breeze, and the built-in bodysuit provides full coverage for dogs with skin issues or excessive shedding.
Plus, the dark color options are perfect for hiding any unwanted pet hair on your furniture or bedding.
Thing You Should Know
These dog pjs are machine-washable and made from a soft, comfortable fabric and features a cute bone-shaped pattern.
They're also sized to fit Shih Tzus, Dachshunds, Pugs, and Mini Schnauzers, so you can find the perfect pair for your pup. And since they're machine-washable, you can keep them looking like new even after multiple uses.
Dog Pajamas FAQs
Your dog is always cold at night, and you don't know what to do about it.
You want your furry friend to be as comfortable as possible, but you're not sure if dog pajamas are the right solution.
Check out our FAQ page for the most common questions people have about dog pajamas. We answer all of your questions, like "Do dog pjs keep them warm?" and "What types of materials are used in making dog pjs?"
Why do pet parents like to take family photoshoots with the whole family and pup?
A family portrait is a great way to capture the love and joy of your family. What could be more special than including your furry family member in the photo? Pets are part of the family, and they add an extra element of fun and love to any photo.
Are there specific dog pajamas for male dogs?
There are a few different styles of dog pajamas designed specifically for male dogs. For the most part, they're similar to the pajamas designed for female dogs, but they typically have a more masculine look and fit.
If your dog isn't used to wearing clothes, it's important to start slow by conditioning him to associate putting on clothing with positive things like treats or toys.
What are the best pjs for older dogs that like wearing pjs?
Older dogs who like wearing pajamas will probably enjoy a soft and comfortable pair of PJs. A good option is a shirt and pants style outfit made from a lightweight fabric such as cotton or flannel. Make sure that the PJs are roomy enough to allow your dog to move around comfortably, and be sure to choose a size that is appropriate for your dog's body type.
Is a full body design with open belly for dogs recovering from a surgery needed?
It can actually be quite harmful. During the recovery process, it's important to keep the surgical area clean and protected from infection. Open wounds increase the risk of infection, so it's important to keep them covered and protected as much as possible. An open belly also makes it difficult for the dog to move around and exercise, which can slow down the healing process.
How do I know that pet pajamas will fit my dog correctly?
Measuring your pet is the best way to ensure a good fit with pet pajamas. You'll need to measure the length of your pet from the base of their neck to the base of their tail, and then measure around your dog's waist. Once you have those measurements, you can use a size chart to determine which size pajamas will fit them best.
Do puppy pajamas make it hard for potty time?
It depends on the type of puppy pjs. If they are loose-fitting and allow for easy potty time, then there shouldn't be any problem. But if they are tight or restrict the dog's movement in any way, it could make it more difficult to go potty. So it's important to choose the right style of pjs for your pup.
Can larger breeds wearing pjs still run around?
It depends on the individual dog and the specific dog pajamas. However, in general, if the pajamas are too tight or restrictive, they may inhibit the dog's movement and ability to run around. On the other hand, if the pajamas are wide and loose-fitting, they shouldn't cause any problems. Ultimately it comes down to how comfortable the dog feels in them and whether or not they impede its normal movements.
Will pjs bother my dog's body when wearing them?
There's no right or wrong answer to this question since every dog is different. Some dogs may feel more comfortable wearing pajamas, while others may not like them as much. The key is to watch your dog's body language and see how they react when you put them in pjs. If they seem to be struggling or uncomfortable, then it might be best to avoid using them.
Do larger breeds like most dogs like wearing pajamas?
There's no real consensus on this one! Some people say that their large breed dog loves to wear pjs, while others claim that their dog hates it and always takes them off as quickly as possible.
What are the best dog pjs for the winter?
Dog pjs are perfect for the winter because they keep your dog warm and snug. There are a lot of different styles and materials to choose from, so it's important to find the right pajamas for your dog's needs.
Some of the best materials for dog pajamas include fleece, cotton, and polyester. Fleece is probably the best option because it's soft, warm, and durable.
Cotton is also a good choice because it's breathable and absorbs moisture well. Polyester is a good choice if you want something that will keep your dog dry in wet weather.
What kind of pups need pajamas?
There are a few different types of pups that might need pajamas. For example, elderly dogs or dogs with health problems might need pajamas to keep them warm.
In addition, some smaller breeds of dogs can get cold easily, so they might also need pajamas. Lastly, some people like to dress up their pets in pajamas as a fun fashion statement!
Why does a dog wear pjs?
There are a few reasons why dogs might wear pajamas. For example, some people believe that pajamas help keep dogs warm during the winter months. Others think that pajamas protect dogs' skin from getting irritated by their hair. And finally, some people believe that pajamas make it easier for dog owners to clean up any messes their furry friends might make during the night.
Can I put dog pajamas in the washing machine?
Yes, you can put dog pajamas in the washing machine. However, you should check the care instructions on the tag to be sure.
Many dog pajamas are made of delicate fabrics that may not be able to withstand the harsh cycle of a washing machine.
So if you do choose to wash them in the machine, be sure to use a gentle cycle and cool water. And don't forget to air-dry them afterwards!
Will dog pajamas cause irritation?
There's no definitive answer to this question since every dog is different and may react differently to pajamas. Some pups may experience irritation from the tight fit of the pjs, while others may not be bothered by them at all.
The best way to find out if your dog will be okay wearing pajamas is to try them on and see how he or she reacts. If your dog seems irritated or uncomfortable after wearing the pajamas, it's best to take them off and refrain from using them again.
Are thermal dog pajamas too hot?
Thermal dog pajamas can be too hot for some dogs, but many dogs love to wear them because they keep them warm and cozy. If your dog seems to be too warm in his thermal pajamas, you can always remove them. But if your dog is shivering or looks like he's cold, keep him in his PJs! Who doesn't like staying warm on a cold night?
Best Dog Pajamas For Pup!
Thank you for reading our blog post on the best dog pajamas! We hope that our picks helped you find the perfect set of pajamas for your pup.
We know how hard it can be to find good quality dog pajamas, so we appreciate you taking the time to read our recommendations. If you're still undecided, we urge you to check out the reviews on Amazon - after all, thousands of people can't be wrong! Thanks again for reading!
Happy Shopping!