Are you a dog owner? If so, you know that walking them can be a hassle.
That's where a great leash comes in! There are many different types and styles of leashes on the market, so it can be tough to decide which one is best for your needs. In this article, we will review the best dog leash for 2023.
We will take into account factors such as price, durability, and customer reviews. After reading this article, you will be able to choose the perfect leash for your furry friend!
🐾
We hope you find everything you need and more from our product picks! All of the products were independently selected by our editors, and PawsPicks may receive a share of sales or other compensation if you purchase something through one of the links (this is how we stay in business). Some of the products may have been sent to us as samples so that we may tinker around with them ourselves, but all opinions in this article are our own. Thanks for shopping with us, and we hope you enjoy finding everything you need and more!
How We Choose The Best Dog Leash
It can be tough to find the perfect leash that meets all of your needs.
Not all leashes are created equal. You need a leash that's strong enough to withstand running and hiking, but also lightweight and comfortable for everyday walking.
After reading through hundreds of reviews, We've found the 5 best dog leashes for every activity. Whether you're looking for a retractable leash, hands-free leash, leather leashes, rope leashes, or training leash. If it's for running, walking, hiking, training or even just a night stroll. We've got you covered.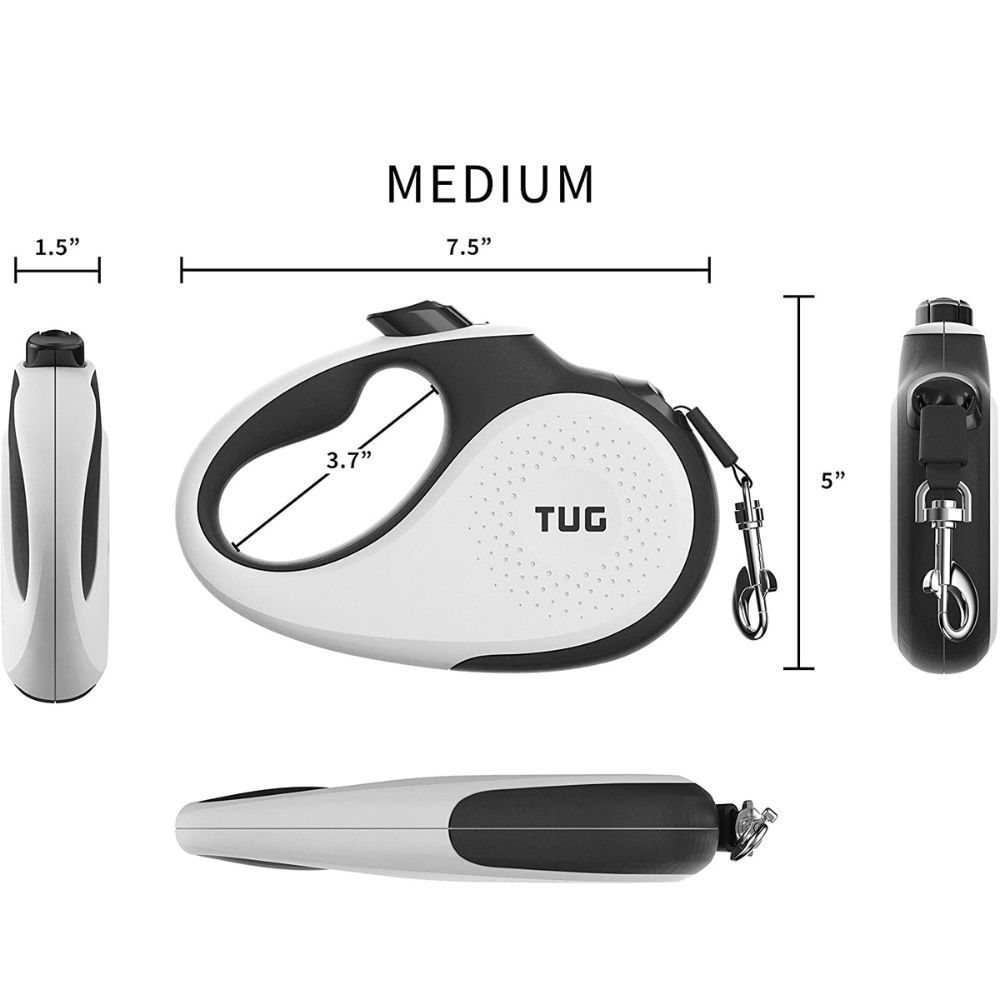 Best Tangle-Free Retractable Dog Leash
Check Price on Amazon
Reasons We Love It
This TUG leash features a Quick Lock And Unlock Feature that makes it easy to roll on and roll off, with your thumb. The ergonomic, anti-slip handle is super comfortable for those long walks, and the easy roll-on/roll-off feature makes it a breeze to use.
Things You Should Know
The type of leash, the size of your pup, and their habits are all important things to consider. For small dogs, a small leash is best. For medium-sized breeds, a medium leash is best. And for larger breeds, a large leash is best.
Retractable leashes are not suitable for chewing and can be dangerous if your pup gets tangled in them. A 16 ft tape leash with easy-adjust retraction is a good option for all size dogs. The tangle-free 360 degree tape movement gives your dog plenty of room to explore while still keeping them safe.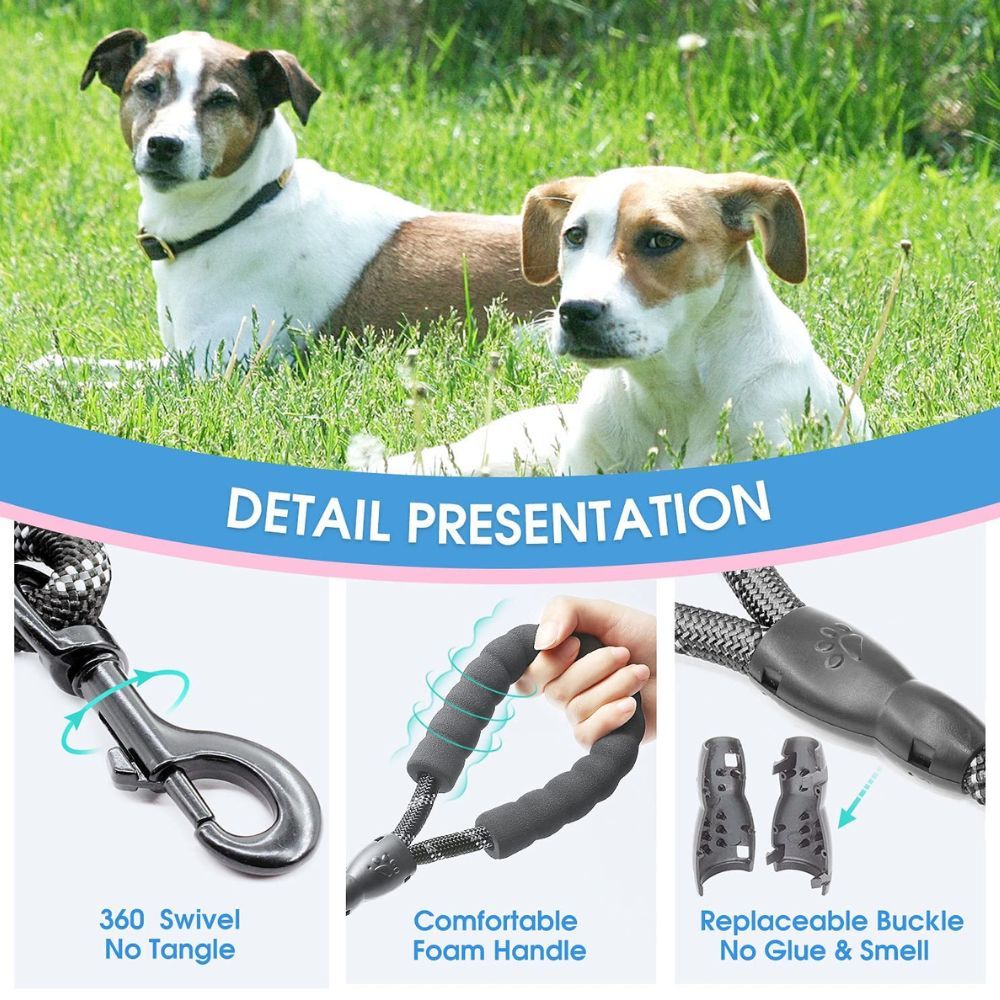 Best Dog Leash With Comfortable Padded Handle
Check Price on Amazon
Reasons We Love It
Looking for a high-quality leash that will make your walks with your furry friend more enjoyable? Look no further than the BAAPET Dog Leash! This leash is made from durable materials and features a comfortable padded handle, so you can walk your pup without worry.
Plus, the highly reflective threads help keep you both safe on evening walks. Choose from four different lengths to find the perfect fit for your needs. Whether you have a small, medium, or large furry friend, the BAAPET Dog Leash is the perfect choice for all your walking adventures!
Things You Should Know
The BAAPET  leash is made with the strongest 1/2 inch diameter rock climbing rope to ensure your safety and that of your dog. The very durable clip hook is also included to make sure your dog is safe while on the leash.
This leash is perfect for walking or running with your dog, as it will not break or come loose easily. The comfortable grip handle ensures that you can hold on to the leash securely, even if your dog pulls hard. The reflective stitching on the leash also helps to keep you both visible in low light conditions.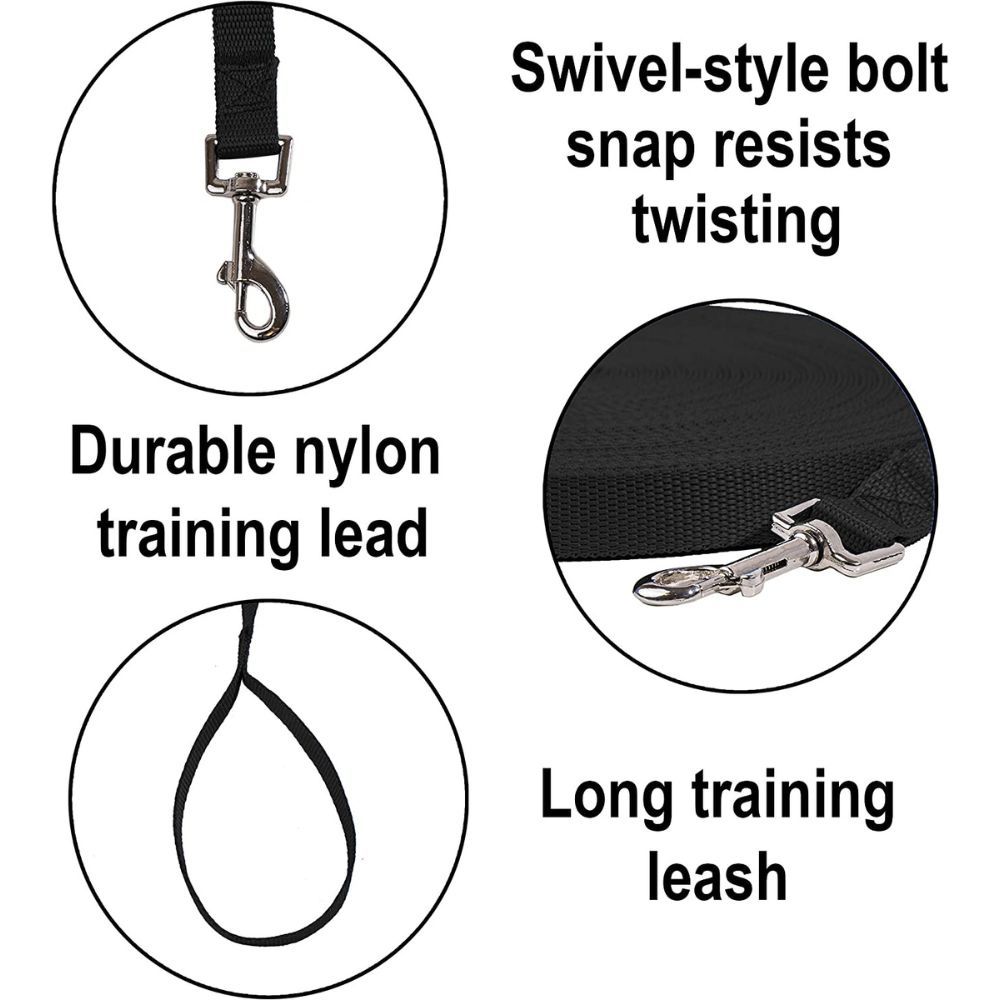 Best Dog/Puppy Obedience Recall Training Agility Lead
Check Price on Amazon
Reasons We Love It
Looking for a reliable and durable training leash for your medium or large dog? Look no further than the HiKiss! This long leash is made from tough and sturdy nylon, with reinforced stitching for extra strength.
The nickel-plated clip is also rust-resistant and swivels to prevent twisting. Whether you're using it for backyard recall training or off-leash walks, the HiKiss will give you the peace of mind knowing that your dog is always under your control. Plus, it's available in a variety of colors to match your style.
Things You Should Know
Looking for a versatile and durable leash? Check out our 3/4in wide by 30 feet long leash! It's great for hiking, camping, training, hunting, backyard, beach, recall training, outdoor play with tennis balls, and swimming!
Made of high-quality materials, this leash is built to last. It also has an amazing grip so you can keep a firm hold on your furry friend even when they're running around like crazy! Whether you're taking your pup for a walk around the block or exploring the great outdoors, this leash will make sure they stay by your side.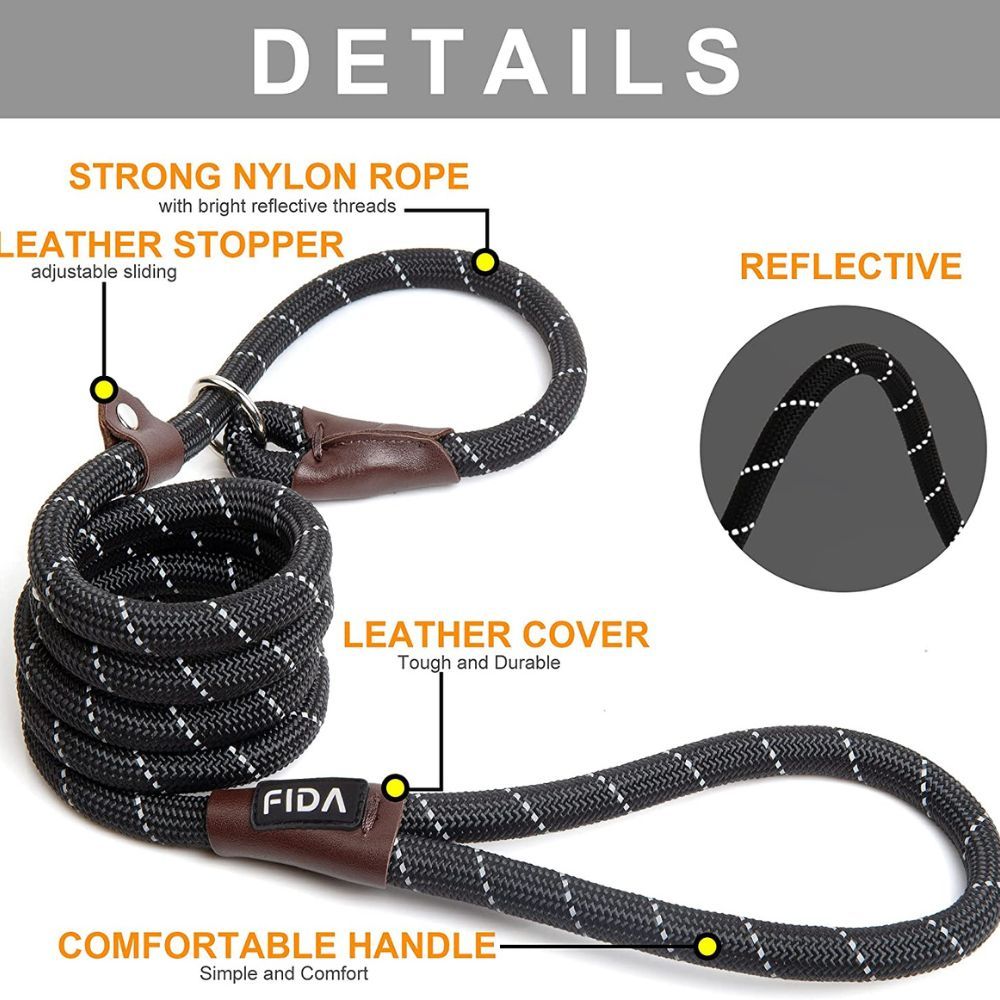 Best Slip Lead Dog Leash
Check Price on Amazon
Reasons We Love It
Looking for an easy and convenient way to walk your dog? Look no further than the Fida dog leash! This leash is designed to be put on and taken off without the need for a collar or harness, making it perfect for busy pet parents on the go. Made of high strength nylon rope, this tough leash is super durable and features a comfortable grip. You also have seven colors to choose from.
The adjustable loop ensures a perfect fit for any size dog, while the metal ring provides secure attachment to your pet's collar or harness. With its strong and lightweight construction, the Fida dog leash is sure to provide many years of reliable use.

Things You Should Know
If you're looking for a leash that will keep your furry friend safe during night walks or runs, this is the one for you! The reflective straps on the entire leash are highly visible, so you can rest assured that your pup will be safe. Additionally, the leash is adjustable, so it can be the perfect size for any dog.
And if you're dog trainers looking to train your dogs, this leash is perfect for that too! The slip leash tightens when your pup pulls and loosens when the behavior is corrected. This way, you can train your pup effectively and under control. So if you're in the market for a new leash, be sure to check out this one! You won't be disappointed.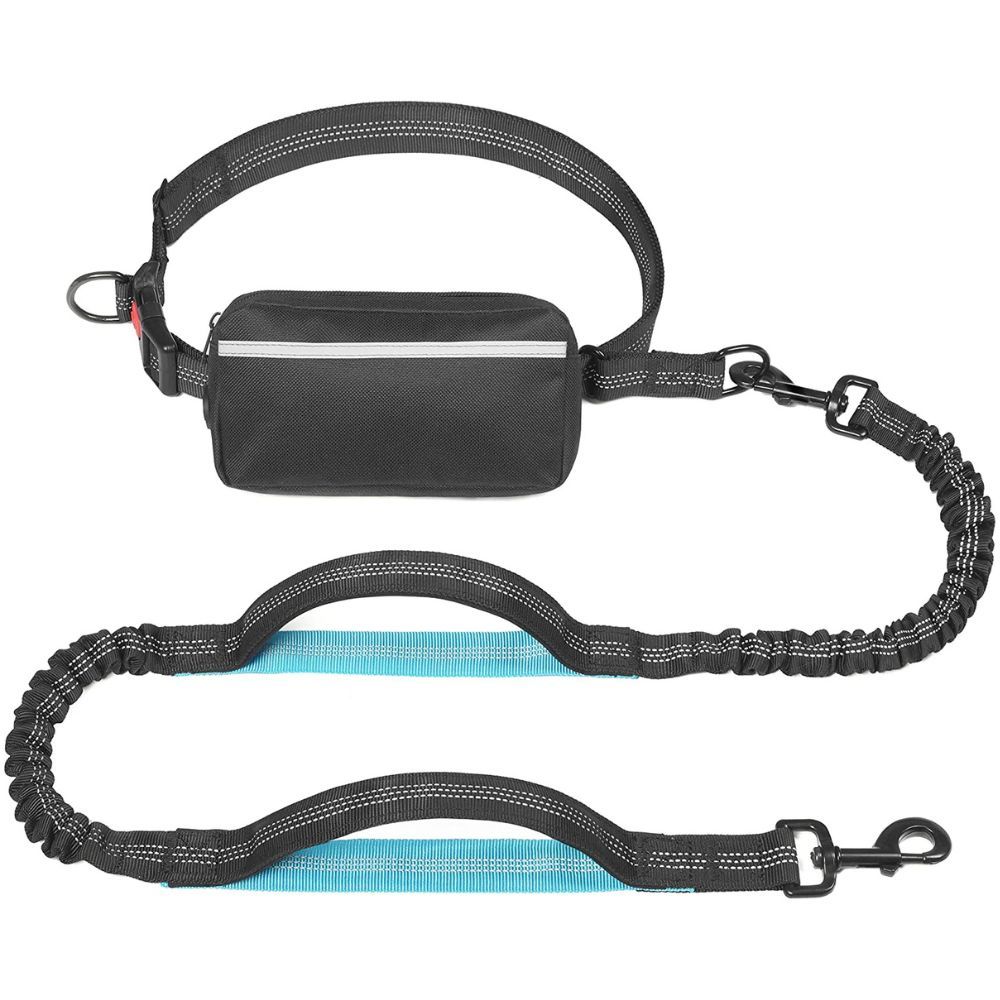 Best Hands Free Dog Leash With Zipper Pouch
Check Price on Amazon
Reasons We Love It
Looking for an easy and convenient way to keep all your dog-walking essentials close at hand? Look no further than the iYoHop dog leash! This leash features a handy zipper pouch that's perfect for holding your smartphone, keys, poop bags, and yummy treats.
The pouch is also removable, so you can easily take it with you on the go. The leash itself is made of durable bungee material, so it will absorb any sudden pulls from your furry friend. Plus, the dual padded handles provide a grip with plenty of comfort for long walks or runs. Whether you're training your pup or simply enjoying a leisurely stroll, the iYoHop dog leash is the perfect choice!
Things You Should Know
If you're a runner, you know that it's important to be safe and visible when you're out on the road. That's why reflective stitching is such an important feature in running gear. Reflective stitching helps keep you both safe and visible, so you can focus on your run.
Our running leash belt has a handy D-ring that you can use to attach your favorite pup training clicker or pup poop bag holder. Plus, it has two extra handles for added control. And when you're done with your run, the  running leash belt easily converts to a waist-worn belt, so you can continue wearing it hands-free.
Dog Leash FAQs
Dog owners are always looking for information about the best dog leashes.
There are a lot of different types of leashes on the market, and it can be hard to figure out which one is right for your pet. It can be very confusing when it comes to picking out any type of dog products.
We've compiled a list of the most frequently asked questions about leashes to help you make the best decision for your furry friend. We know how important it is to both you and your pup to not leave any stones unturned!
Dog Service dogs have to be on a leash?
No. The Americans with Disabilities Act (ADA) specifies that "a service animal must be under the control of its handler." This means that a service dog doesn't necessarily have to be on a leash, but it must be under the handler's control at all times.
There are many ways for a service dog to be controlled by its handler. Some handlers use voice commands, some use hand signals, and others use leashes or harnesses. It really depends on the individual dog and handler team. As long as the dog is following the orders of its handler, it is considered to be under the control of its handler.
What is the best leash for my pup?
There is no one "best" leash for all dogs. Factors to consider when choosing a leash include the size and strength of your pup, the type of terrain you'll be walking on, and whether you want a retractable or fixed-length leash.
For large or strong dogs, a heavy-duty leash made from braided nylon or leather is most likely to withstand pulling and lunging. If you'll be walking your furry friend on rough terrain, a sturdy choke chain or harness may be necessary to keep him under control.
A retractable leash can be useful on smooth surfaces like sidewalks and in parks, but it should not be used for recall training as it gives too much freedom to dogs who might run into danger
Which is the best retractable dog leash?
There are a lot of different retractable dog leashes on the market, and it can be tough to decide which one is the best for your pet. Some things you may want to consider when making your decision include the length of the leash, how sturdy it is, and how easy it is to use.
Are pets allowed on leashes?
Pets are allowed on leashes in most public places, though there may be restrictions on particular breeds or species of animals. For the safety and well-being of both pets and people, it's important to always follow any posted leash laws.
Leash laws vary by municipality, so it's important to check with your local government to learn about specific regulations in your area. In general, though, pet owners are responsible for keeping their animals under control and ensuring that they don't cause a disturbance or danger to other people or animals.
What is the strongest retractable dog leash?
The strongest retractable dog leash is the one that has the heaviest-gauge cable and the widest support strap. This will give you the most strength and durability.
Some factors to consider when choosing a retractable leash include how much weight your dog can pull, how often you'll need to retract the leash, and whether you'll be using it for walking or running.
If your dog is a strong puller or likes to run, you'll need a heavy-duty leash that can handle more stress. If you plan on retracting the leash often or using it for running, then look for one with a quick-release mechanism for easy retraction.
How to choose the best leash for your pup?
When choosing the best leash for your pup, there are a few factors to consider. The first is the size of your pup. Larger breeds will need a thicker and stronger leash than smaller dogs.
The second factor is how you will be using the leash. If you will mostly be using it for walking, then you'll need a standard leash. If you will also be using it for training or restraining your dog, then you'll need a specialty leash, such as a choke chain or harness.
And finally, consider your own personal preferences. Some people prefer leashes that are attached to the collar, while others prefer leashes that clip onto the waistband. Whichever type of leash you choose, make sure it is comfortable.
Is there a California dog leash law?
There is no statewide law that specifically addresses dog leashes in California. However, most municipalities have their own laws that require dogs to be on a leash in public places. Contact your local municipality to find out more about the specific laws that apply in your area.
Should you use a retractable dog leash?
There are pros and cons to using a retractable leash. On the one hand, they allow pups more freedom of movement than traditional leashes, which can be beneficial for pups who like to run around. On the other hand, there is a risk that a pup might run too far and get lost, or that they might encounter something dangerous while off leash.
Ultimately it's up to each individual pet owner to decide whether or not a retractable leash is right for their furry friend. Some people prefer them because they give their pet more space, while others find them too dangerous and prefer a traditional leash instead.
Is your pup always pulling on the leash?
There could be a variety of reasons why your pup is always pulling on the leash. One possibility is that your dog is overexcited and doesn't know how to properly express his or her excitement. Another possibility is that your pup is trying to get somewhere - perhaps he or she sees another animal or person and wants to go over and say hello.
It's important to train your pup how to walk properly on a leash, so that both you and your pup can have a good experience. You can start by teaching your pup basic commands like "sit" and "stay". Once your pup knows these commands, you can start working on walking calmly on a leash. Be sure to praise your pup when he or she does follow commands and walks calmly next to you behaving around other dogs.
Are leashes better to use than a harness?
There are pros and cons to both leashes and harnesses. Leashes are better for preventing dogs from pulling on walks, as a harness can actually encourage dogs to pull more since they feel more secure with something around their torso. However, Harnesses do a better job of distributing the force across the dog's body if they do happen to pull, which can prevent injuries in the case of a strong tug. In the end, it depends on what works best for each individual dog and handler.
What does nylon webbing and bolt snaps mean to most dog owners?
Webbing is a sturdy, lightweight fabric that is often used in making belts, luggage straps, and other similar items. It is also a popular choice for dog leashes and collars because it is durable and easy to clean.
Bolt snaps are small metal clips that can be attached to one end of a piece of nylon webbing. They are then used to quickly and easily attach the leash or collar to your dog's collar or harness. Many pet owners find it to be a convenient way to keep their pup safe and secure while on walks.
Is neoprene padding important to have in primal pet gear?
There is some debate over whether or not neoprene padding is important for primal pet gear. Some people say that it's necessary to protect your pet from injuries, while others claim that it's not really necessary and can actually make your pet less agile.
At the end of the day, it's up to you to decide whether or not you think neoprene padding is important. If you're concerned about your pet's safety, then by all means go ahead and include some neoprene padding in their gear. But if you're more interested in making them as mobile as possible, then you may want to leave the padding out.
Is primal pet gear important for a dog rescue?
Yes, it can be very important for a dog rescue. Dogs in the wild spend a lot of time hunting and playing, and they get a lot of exercise. This is why primal pet gear is so important; it helps recreate those natural activities that dogs need.
Some of the benefits of using this gear include:
1. Improved joint health – When dogs play and hunt, they use their joints in a healthy way. It also helps to keep joints healthy and limber.
2. Reduced obesity – Dogs that have plenty of exercise are less likely to be obese. Primal pet gear helps create an environment where dogs can get the exercise they need.
3. Better behavior – A tired dog is
Can you use hands-free leashes for smaller dogs?
Yes, you can use hands-free leashes for smaller pups. The key is to find a leash that's short enough to keep your dog close to you and prevent him from straying too far away. There are a number of different types of hand-free leashes on the market, so be sure to do your research before buying one.
That said, it's important to keep in mind that no leash can replace proper training. Even the best leash won't keep your pup from getting into trouble if he's not properly obedience trained. So be sure to start training your pup early and continue working with him throughout his life to ensure good behavior.
Best Dog Leash For Your Furry Friend
And that's it! We hope our picks of the best leashes for your pups helped you find the perfect leash that you need! Don't forget to tap the button to check the best prices on Amazon today!
Thanks for reading and happy shopping!